Includes hundreds of questions similar to those on the actual Transport Canada exams with detailed, often illustrated explanations.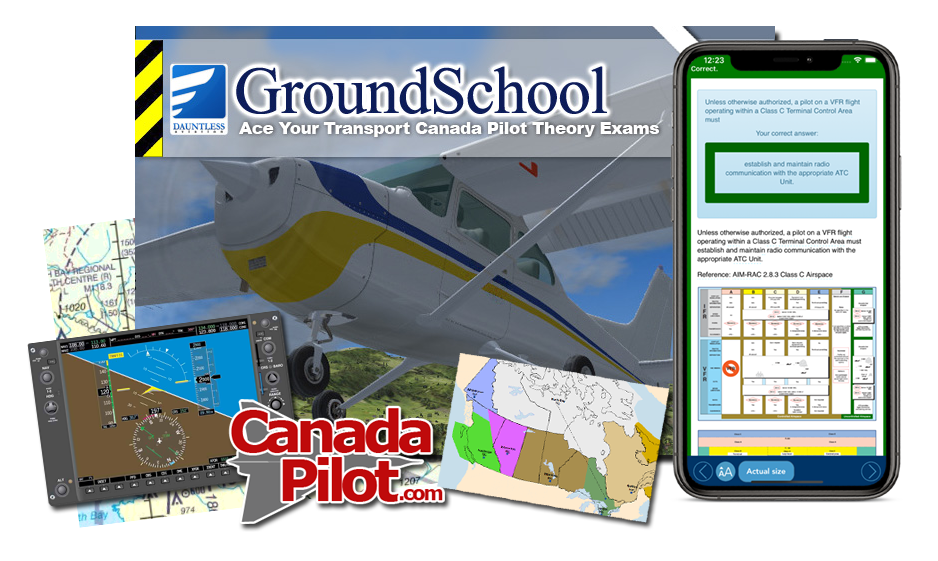 2020
2021
1000+ total Questions, representative of actual Transport Canada questions (current for 2020!) with full, detailed explanations of the answers written by an experienced team of flight instructors led by ATP Class 1 Instructor, Nikolas Chapman. By doing the questions, you learn the material in an ACTIVE way.
Actual, complete PSTAR questions. Learn the PSTAR exam in under two hours! Some have even learned it in under ONE hour!
Hundreds upon hundreds of representative questions on all applicable topics for the Transport Canada Private pilot written examination (PPAER) for Aeroplanes and for the Transport Canada Recreational Pilot Permit written (RPPAE) for Aeroplanes.
Powerful and flexible study and learning modes to configure the software means maximum learning efficiency for you.
Dozens of charts and figures included.
A fairly comprehensive built-in library of aviation provides (via the Internet) an extended reference beyond what's provided in the program. Look up CARs, AIM, key TC documents, etc.
This "smart" software detects and zeroes in on those areas where you appear to be having difficulty and concentrates your study on those areas for maximum efficiency.
Printouts galore to show to your instructor / FTU.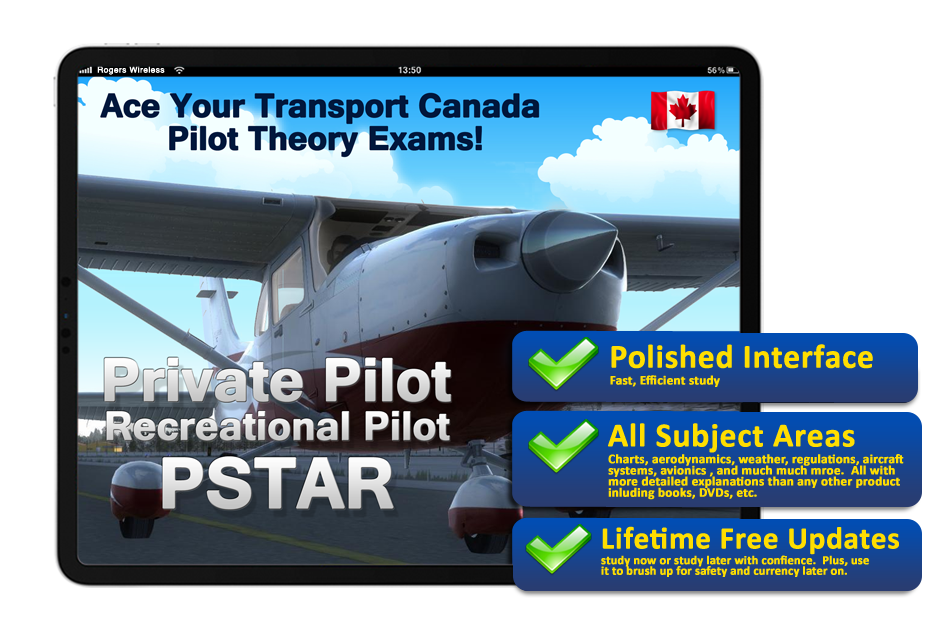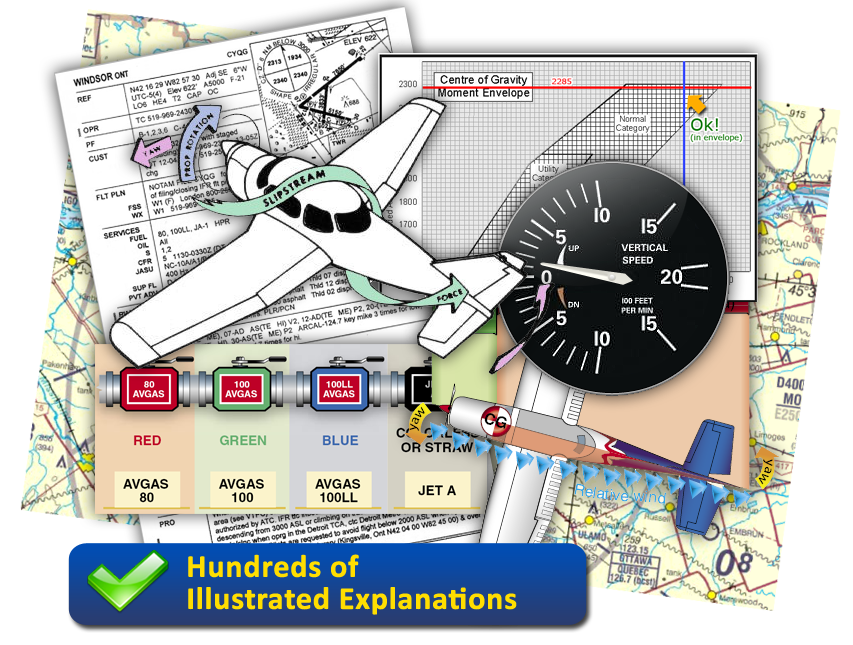 This software covers all required ground subjects for the Transport Canada Private pilot written examination (PPAER) for aeroplanes, the Transport Canada Recreational Pilot Permit written (RPPAE) for aeroplanes, and the Student Pilot and Air Regulations exam (PSTAR). While no preparation material can in all honesty guarantee you a passing mark on your actual test, If you use this software conscientiously and study both the questions and explanations and can answer the vast majority of the 1000+ questions, you are very, very likely to pass your test and pass with a very high score indeed! Topics include:
CARs
Air Law
Air Traffic Procedures
Licensing Requirements Airframes
Engines
Aircraft Systems
Aerodynamics and Theory of Flight Flight Instruments
Aviation Weather Navigation,
Radio Aids and Electronic Theory
Flight Operations
Human Factors
Pilot Decision Making

This software can be used for independent home study, and with your school's/FTU's consent and supervision, time spent completing this course can be transferred over to meet the minimum ground school hour requirements. This software is up-to-date with latest Canadian aviation regulations and for the new Graphic Area Forecast weather format. Unlike with books and/or other courses, updates to this software are always free!Remember: the more you learn on the ground now, the less you will pay and struggle in the air later.
Author - Nikolas Chapman
Nikolas Chapman is a Transport Canada certified, Class 1 flight instructor and Airline Transport licensed pilot. Nikolas has been employed as a Chief Flying Instructor and Chief Pilot for a flight training unit and a commercial airline. Currently, he resides in Victoria BC, where he works as a freelance commercial writer, specializing mainly in aviation related pursuits. Nikolas has authored many aviation training publications and policy manuals. Outside of flying, Nikolas can be found windsurfing in the chilly waters off the coast of Vancouver Island.
Authors Wanted! - We are currently looking for qualified aviation authors (maybe you or an instructor that you might know?) to develop high quality ORIGINAL aviation content (basically, questions, answers, and explanations) for future Canadian Commercial Pilot Aeroplane and ATP versions of our theory exam preparation products. Interested parties should send the following in an email to jobs(at)dauntless-soft.com:
A statement of interest, including a brief bio which convinces us that you indeed have the background to credibly undertake such a project
Your proposed outline of the chapters/content that your question sets will cover and the approximate total number of questions in each
At least 10 sample questions, complete with 1 correct answer, 3 credible 'distractor' answers, and a detailed, intelligent explanation. At least 1 of the sample questions must include a chart or figure to reference, and at least 3 of the samples must include figures or diagrams in the explanations. While any charts (performance charts, navigational chart excerpts, etc) you provide should be "good to go" based on scanned originals, your illustrations to answering questions need not be more than rough sketches as our designers will improve upon these.
A proposal of the time-line to completion, including milestones for numbers of questions / chapters done by certain date(s).
Your renumeration request. Please note that our budget here is quite limited, though besides what we can afford to pay you, you will also have the satisfaction of helping flight students while we will of course provide you with personal promotion and references that might otherwise help your career.
We appreciate that we are asking quite a lot from applicants, but otherwise in our experience "tire kickers" become an issue. Hence, we ask you to get a feel for the actual work involved so that you can see if it is for you.

In addition to Canadian Commercial Pilot and ATP aeroplane titles, we also welcome proposals along generally similar lines from others who think they have a good idea, again, with a credible proposal/schedule and sample of work.

We look forward to hearing from you!
"I found this software to be crucial in my study habits. It helped me understand the kinds of wording used by Transport Canada in their exams, and the kinds of questions I may encounter. Along with my flight computers, the E6B and the CX-2, my navigation ruler, and protractor, I was able to answer all the questions I came across both on the software exams and on the real thing from Transport Canada. All in all, I have to thank Dauntless for the software. I am not certain how I would have faired on my final exam without it." - TM, Ottawa
"Your product is great! It helped me slaughter my PPL written exam , mainly because it provided descriptive answers and provided me with feedback in areas I was good at and areas I needed to work on." - JM
"I purchased your PSTAR recreational pilot about two weeks ago and wrote the PSTAR test today in Fort St. John BC. I completed the 50 questions in 17 minutes and received a score of 100%. You make the test very easy." - PR " First off, I want to say thanks! I used your Canadian Private written prep app before I wrote my exam and it was a HUGE help! I have recommended this app to everyone I know who has been preparing to write that's PPL exam as well. -JF, Toronto
"Took ground school a year ago, and for a number of reasons (mostly procrastination), did not write PSTAR till now - wrote in 10 minutes and achieved 98% after studying one evening using Dauntless software. Great confidence builder!" - NF (Halifax)
"I am a 48 year old cattle rancher from southern Alberta. .. Your software was wonderful, I used it a lot prior to the test." - MB (Alberta)
"You've helped me ace everything! Thanks!" - LS, Ontario
"Great product that shows positive results every time. Originally purchased this software for my PSTAR exam and I aced that exam with a 96% grade. This software has an excellent variety of questions in its database. I highly recommend this product!" - RA, Ontario
"This program is a must for any of you who want to master your exam!" - RL, Barrie, ON
"No problems with the PSTAR test- I gained 100%!! Your software was very helpful, made studying Air Law almost a non-event. Looking forward to starting studying for the Private Pilots license now." - SS, Winnipeg
Thanks for checking out the software! Good luck on your test, and blue skies!

The CanadaPilot.com Team