GroundSchool - Canada
Prepare for your Transport Canada Private Pilot, Recreational Pilot, PSTAR, and Instrument Rating (INRAT) exams. A range of items both for people who want to convert from Canada to FAA and FAA to Canada. For PC, iPhone™, iPad™, and Android™.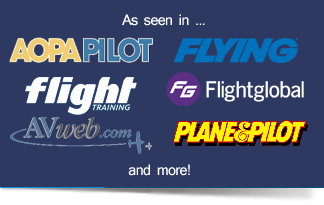 Dec 18 - Cold Outside? Sunny results!


Dear Dauntless,

I love this software! My score was 98 on the real test. Wanting to expedite my progress I just kept testing on GroundSchool until I got at least 95 in four or five consecutive tries and then took the test and it was a breeze. Thanks for the best software!

Hmm - a great score on the knowledge test AND you get to be out in Florida while the rest of us shiver in other parts of the country? Ah, life is good! Congratulations DH on a superb score and for taking the time to write to us. The rest of us will just have to take comfort in the fact that aircraft perform better when the air is colder (since the air is more dense), that is, if we can get the engines started.




Dec 16 - A great score on the IFR written


I just wanted to compliment you on a great product at a reasonable price. I had been using a free test prep for the Instrument written, but I just couldn't break out of the 70s. I purchased this product and in three days, I went from the 70s to getting 85% - 95% on my practice exams. I got an 88 on the real thing. What I like about this product is how it explains why an answer is wrong, reinforcing your understanding of the material...and at a fair price. Thank you for producing this series.

Sometimes our users write us things that sound like ad copy. We didn't write this ourselves, really!

We'd like to congratulate RD while noting that he brings up an interesting point. Those "free" websites are only "free" if your time is worth nothing. Most were put up in a weekend by somebody who inappropriately copied a bunch of questions from our software or a book. They are NOT regularly updated (the two "major" ones that we know of have questions dating back over 8 years!), are usually missing MANY questions, and certainly don't have the professionally written explanations and other content that we do. Additionally, they're clunky and time consuming to use. Really - if you don't like our software, fine, buy a book or something, but it seems like an unwise economy to try to rely on such outdated sites.




Dec 16 - A Great Result from an anonymous user!
We received a bit of anonymous feedback from a user today, though it's a wonder he/she remained so modest with auch a wonderful result as this! We're not sure whether this person used the PC, Mac, iPhone/iPad, or Android version of our FAA knowledge test prep. All the same, we congratulate this person on a job superbly done and glad we could play a small part in their success!

I took the Private Pilot written and received a 98% (missed one question). This program was the only thing I truly used to study with, although I did scan other sources to insure that there was not missing material in this program-there wasn't. Of all the other sources I checked out, this was by far the most user friendly in its setup.

I studied the test by studying each section individually until I could consistently get 100% in it or miss one or two. Basically, go through them and let it tell me what I missed right after answering and then once I finished all the questions, I would go back over the ones I missed one more time. Then repeat.

I honestly have no clue how many hours I've spent on this program but I know that it took going through each section "test" 5-10 times depending on its difficulty before I had mastered the section.

I breezed through the actual test, it took me 10-15 minutes tops, and that was only because I forced myself to slow down so as not to make careless errors.




Dec 16 - 95 on the commercial written!


I studied one month using only the dauntless commercial pilot app and got a 93 on my actual test. Well worth what I paid for the app. I will be using this software for my CFI knowledge test.




Dec 13 - More great feedback from a new Private Pilot!


Excellent program! This was the only study material I used besides the actual FAR/AIM and charts for references. Ended up scoring a 97 and feel like the app covered all material needed and alllowed me to study in a very productive way.




Dec 12 - Awesome score on the FOI test!


Just wanted to send in a report for future and current users. Passed the FOI exam with 98%! Recognized all the questions on the exam- no surprises! Great job Dauntless!




Dec 12 - 'Nothing to be Improved'


Your testing format was extremely helpful in the results for my test. I'm now in the process of studying for my airframe written test using your software. I see nothing to be improved in your material.




Dec 10 - 98% on Fundamentals of Instruction


98/cent. Thanks!




Dec 10 - 100% on FOI!


So, I had been studying for my FOI a few weeks, mainly from the Aviation Instructor's Handbook. I was bogged down in the stale reading and making no progress till I was sitting waiting for the mechanic to finish work on a rental plane when an older gentlemen struck up discussion and when asked about my goals he told me about your programs. I loaded them onto my IPAD and went to work. I worked the sections individually and then, stacked them as I completed the next. Using al of the handy tools from flash card mode to the decks. The greatest advantage was not just memorizing the answers but, the reference backed up each question ( I love the commentary on the crazy FAA questions). This says that someone took time and really put together a good product with research beyond the books. In two weeks time, studying solely but reference to Dauntless I was smoking through the 438 question bank in about 15 minutes with 99% accuracy. I walked into the test center today and there was another student waiting to take the FOI. He had the appointment before me but, was hesitant to pull the trigger on his $150 exam. I took his time slot commenting confidently, " trust me, I won't be long". In 9 minutes, YES, nine, I smoked the 50 question exam with %100. The guy behind me not so lucky. True story! Great program!




Dec 9 - Apparently, we 'rock!' Whoohoo!


You folks really rock. Your software AND your company blow everythng else right out of the water.

We've been honored to have praise from users before, but this one makes us really blush. Thank you very much for the kind words, and we will continue to work hard to live up to all of our users' lofty expectations.