GroundSchool - Canada
Prepare for your Transport Canada Private Pilot, Recreational Pilot, PSTAR, and Instrument Rating (INRAT) exams. A range of items both for people who want to convert from Canada to FAA and FAA to Canada. For PC, iPhone™, iPad™, and Android™.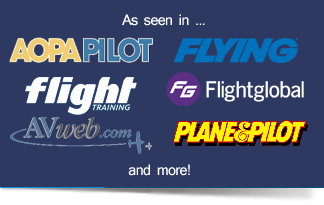 May 19 - 98% on the IFR written!


Just wanted to let you all know that I scored 98 percent on my instrument rating helicopter knowledge test thanks to your software. The only question I got wrong was actually a very easy question regarding logging actual instrument time. It was my fault for not really focusing on that question and answers completely.




May 19 - 98% on the Private Pilot written.. awesome!


I just took my FAA private pilot written examination and was pleased to earn a 98%. Your questions and the answer explanations were concise but thorough. I'm now ordering the check-ride prep. Keep up the good work. I would definitely recommend your product to others.




May 19 - How many pilot certificates do you have?


I wanted to write to you guys and let you know that I am one of 15 people in the United Stats that has: ATP Single & Multi Land & Sea; ATP Helicopter, Commercial Gyro, Glider, LTA Balloon, CFI Airplane Single & Multi; Helicopter; Gyroplane; Glider; Inst Airplane & Helicopter, Ground Instructor Advanced and Instrument. Or, in short, more or less every rating the FAA offers except Airship. I have taken 14 written exams, and passed all on the first attempt.

I used your software to prepare for every one of them. I also used your Safelog software to produce ALL 23 8710 forms, for my 23 checkrides. Thank you!

Now THAT is absolutely amazing, and you have some of us here (especially Anthony, our resident DPE and fellow certificate-collector) more than a bit jealous. Amazing work, sir!




May 17 - What does Aviation Consumer say about Safelog?


Safelog is the walk-away winner for a full-featured, digital pilot's logbook. We could use virtually all the features intuitively. The data is easy to import and export. The logbook is vastly customizable to show any kind of data you want, but it's set up well with defaults that will work for most users. There are handy quick-entry items to make the logbook chore easier. It is also the most international with separate versions for FAA, JAA, CAA, Canadian and Australian users.

AviationConsumer.com, the world's leading source for unbiased and independent aviation product reviews and so we were very pleased by their comments after a head to head test between Safelog and our major competitors

If you haven't tried Safelog yet, what are you waiting for?




May 16 - Excellent score from Maine!


Thanks to Dauntless software I scored a 97 on my FAA written test and obviously was extremely pleased. I am no doubt one of your older student users ( 70 ) and it was your system methodology and the outstanding explanations for all of the questions that made by results possible. I did take a formal 32 hour ground school course but it your testing practice that brought everything together. I have now purchased your [RideReady] checkride program and will be ready when that day eventually comes.

Thanks again for a super experience!




May 16 - Aces the Private Pilot written!


I wish to thank you for the excellent app. I used it to prepare for the FAA written test, which I aced. Thank you!




May 14 - A new AGI - Advance Ground Instructor is born!


96%! ... a great study aid as you can see from the score.




May 14 - Instrument Rating (Canada conversion to FAA) test success!


Your software is awesome! I did my ICP exam today... I could not have done it without your software - I am so thankful that I will probably buy another module. I started using the software just simulating exams - not good enough for me. I then decided to just do all the 738 questions. The ones you get wrong go back to the pool, so at the end I answered 959 questions. I spent between 80 to 100 hours preparing. I learnt a lot, and I truly enjoyed the experience.

I wrote the exam in Toronto Ontario Canada - not far from Niagara Falls for the people not familiar with the area.

Thanks again! I am so glad I purchased your software




May 14 - Awesome score on the Private Pilot written!


This program is the best thing i found and i recommended it to my instructor to share with all his students. I was able to take the exam once and score a 98%. There was nothing on the exam that i didn't learn from this program. The one question i got wrong was my own fault because i didn't read all the answers and picked the first one that made sense. ( i know better ). It has been about a month and a half sense my exam and i still use this program every weekend to keep things fresh while i continue my flying lessons.

Thank You Dauntless!




May 14 - GroundSchool comes through again!
CG, of Chambliss, GA, wrote the following to express his thanks as to how our software came through for him for his short-deadline study needs where our competitors were found wanting...

The "Other-Guys" could not help me with taking the Helicopter Add-On exam...Disappointing. I found your product thru an Internet Search and purchased your ATP Program.

Additionally, I did not have much spare time to study for the exam and needed something intensive and focused. I must confess to using the dippy-bird method. I studied for approximately 10 hours over (2) mornings and took the exam the afternoon of the 2nd day of study. Though not earth shattering, I scored a respectable 86%. Frankly, I did not even study for and merely chose "C" for the time/distance and TAS problems....

Excellent product and great price!

While we generally recommend that people take longer than two days to study for their test and really take the time to learn the material (GroundSchool features full explanations, after all), it's also reassuring to know that if you're in a position like CG here with a tight deadline, our software will see you through.