Tailwheel Training can make you a better pilot. Plus, it's a heck of a lot of fun!
Come equipped to your tailwheel training with a real understanding of tailwheel operations and terminology and procedures and you can become a better better pilot.
Oh, and did we mention that you'll probably save money as well, by being better prepared?
Whether you're considering some tailwheel transition (endorsement) training, are already knee-deep in it, or already have the endorsement but could use a mental refresher, we can help.
With material based both on the experiences of the CFIs and tailwheel pilots who are the authors of RideReady and specific FAA recommendations, our RideReady: Tailwheel Transition pilot will help you master the key things you need to know to fly a taildragger well and make the most of your training.
RideReady contains hundreds of questions and answers designed to help certified "nosedragger" (tricycle gear) pilots get the tailwheel ratings. After all, the more you know before you go for your training, the more you can concentrate on the art of actually flying the thing!
RideReady is very reasonably priced. If your experience is like that of most of our users, RideReady - Tailwheel Transition will easily pay for itself in terms of lesser training time. Plus, it features free lifetime updates, so you can always get the latest and greatest material to refresh your memory later on. RideReady contains more content than many books on tailwheel training and is packed with pictures and diagrams to help you on your way as well.
But don't take our word for it you can download the demo version - free - below! So, please download it, see if it works on your PC, and whether or not you like it. If you do, you can get access to the full bank of information in only a few moments.
" I am a C-130 pilot for the United States Air Force and hold an FAA civilian commercial pilot certificate stemming back to my days flying my dad's Arrow. One weekend a fellow Herc pilot and I had nothing better to do, so we decided to get our tailwheel endorsents. Long story short, I ran into your [RideReady] Taiilwheel prep a few days before and decided to buy it. Truth be told, there's nothing in tailwheel flying that is that super complicated--however, there are a bunch of little things to get right! By using your product for a few days in advance, I was much better prepared than my friend (and beat him to solo by over two hours ha ha) because let me tell you -- that little PA-12 Supercruiser surprisingly kicked out butts! ... I felt I had a good handle on the theoretical aspects and so was able to concentrate on the flying and for this I am very grateful. I heartily recommend this to anybody who is thinking about tailwheel flying. "
- Lt EP, USAF, RideReady user
Thanks for checking out RideReady - Tailwheel Transition!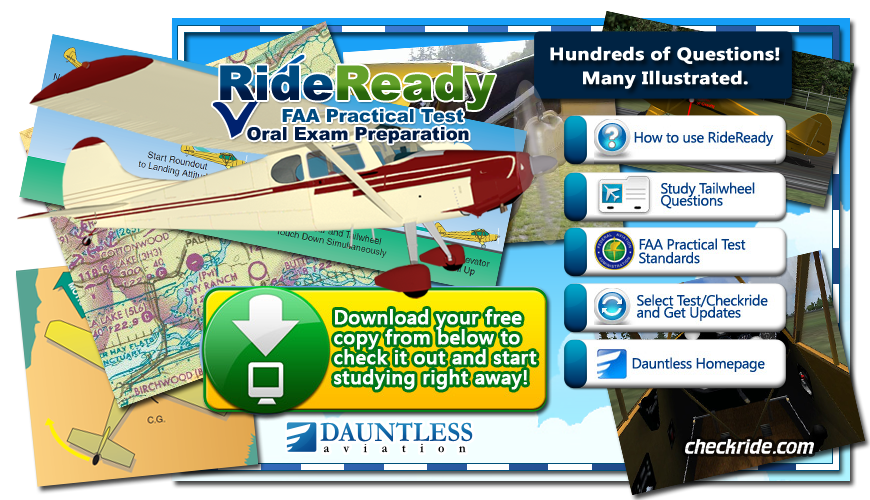 Our RideReady: Tailwheel Transition will, in an interactive question-answer presentation style, take you through the key knowledge points as determined by the FAA and experienced CFIs that are crucial for safe and effective tailwheel operation.
You can be studying using RideReady: Tailwheel Transition in minutes - download the software and/or get the apps, and be studying immediately.