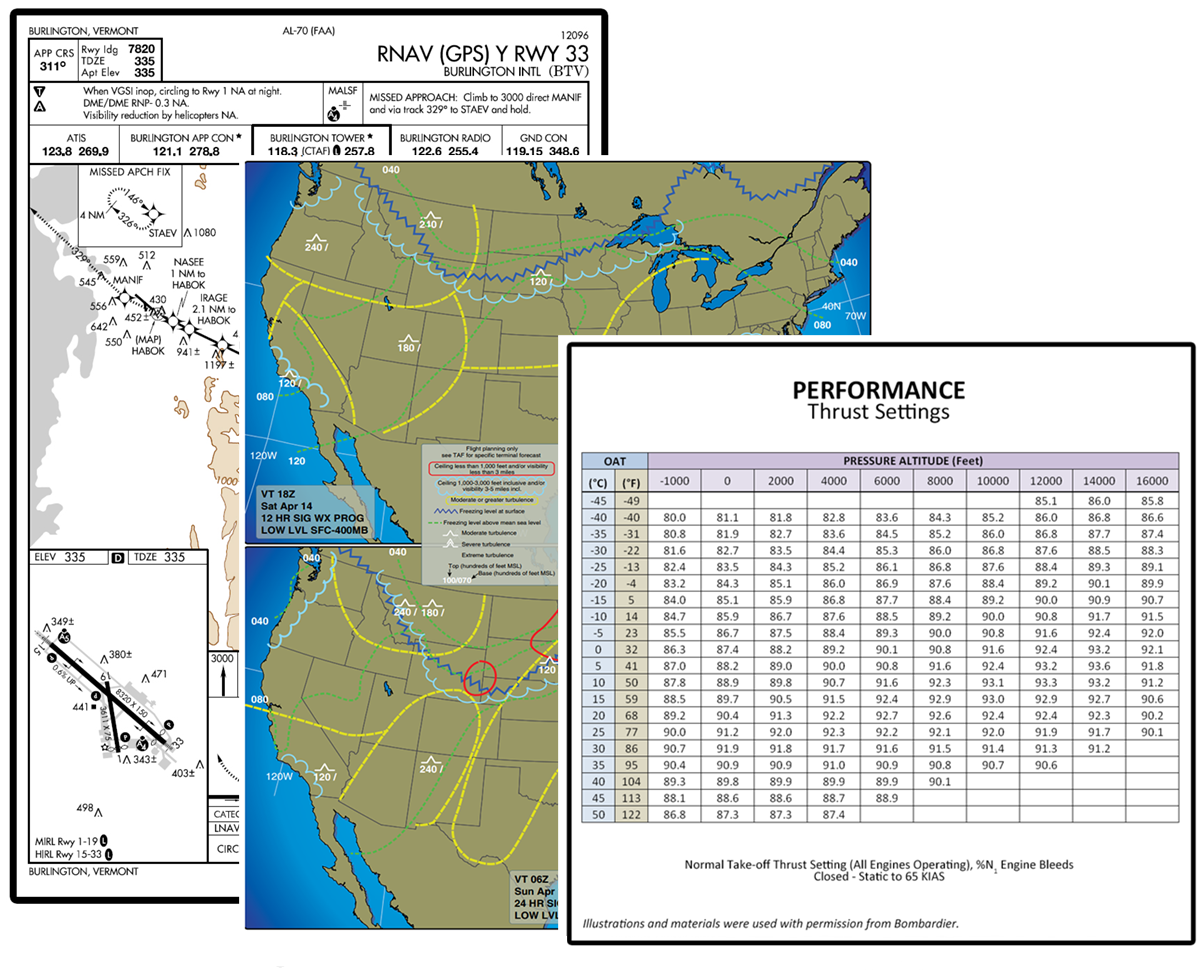 Yes! Our test prep apps come complete with every chart and figure that you will need to reference to prepare for and pass your test. For most questions, these are presented directly as links or buttons near the question so that you can jump directly to the relevant reference figures. This makes your study fast and efficient.

On your actual test, you will be presented with these either in book form or on screen.
If you want to get a copy to print out, do a google search for exactly this phrase: "FAA Knowledge Test Prep Supplements site:.faa.gov". You can also in some cases print them out via a link in our app, but getting them from the FAA is often at least as convenient.
If the figures you see for a question seem to be incorrect:

Make sure you use the in-app update from the main menu of the app to "check for updates" to make sure you have the latest and greatest content.
If you are using a mobile version such as for iOS (iPhone/iPad), be aware that some questions have multiple reference figures attached to them. When viewing one reference figure, use the arrows there to move to other ones associated with that question.

Some versions of our apps feature drawing and annotation tools (plotters, protractors, compasses, etc.) to help you work out problems that involve the figures.
Content note: some FAA questions have attached 'reference images' that aren't necessarily actually required to answer the questions or relevant to the topic at hand. In some cases, especially on more advanced tests, the FAA may do this in order to present you with a plethora information just as you might have in a real-world aviation scenario so that it is your responsibility to analyze and determine which material is relevant. In other cases, it is hard to tell what the FAA was thinking. This affects only a small percentage of questions. Also, some questions may appear to require additional information as might appear in a reference figure, but actually don't. We sometimes get feedback from people who claim that a given question is missing a reference when in fact no such reference is required. It is important to carefully read and understand our explanations which clarify such cases.
It is vitally important that as soon as you get our test prep app, the very first thing you do is to start it up and click on "check for updates" (or similar) from the main menu. This will update the learning content to the latest and greatest. It's really critical that you do this, especially for mobile app versions. Our editorial team is hard at work updating the content regularly through 2020, 2021 and beyond, so check for updates regularly as you study.