Yes! our GroundSchool apps can prepare you for your Military to Civilian "Military Competence" tests.
Our prep is less expensive, better, and faster than one of those "waste your Saturday" cram courses you may have seen at Ft Rucker or elsewhere.
In over 20 years, we have never heard of anybody using our app for any Military Competence test not passing the test(s) while many, many thousands of military pilots have used our prep. This isn't a guarantee and you
MUST put in the study time
or you certainly could fail, but our prep has been repeatedly proven to work. We've had people study in the morning and take the test that afternoon and pass highly. Of course, whether you can do so depends on your particular test taking aptitude and overall background. Again, don't take the studying lightly. You can take an infinite number of practice tests using our prep to gauge your readiness.
Converting to an FAA Commercial Pilot Certificate: The old "Airplane" and "Helicopter" tests to convert your military experience to an FAA Commercial Pilot Certificate have now been replaced with a single "Military Competence Non-Specific" (MSN). Our preps support both the MSN tests and also continue to include test banks for the old airplane and helicopter specific tests in case somebody needs them for legacy reasons.
Converting to an FAA Flight Instructor (and/or instrument instructor) Certificate. Yes, we can prepare you for the Military Competence Instructor (MCI) test that is used to make you a civilian instructor. While, strictly speaking, it is not necessary to pass the knowledge test, it is generally in your best interest to take advantage of the fact that our apps have the best learning content (explanations) in the business by far to really learn "the FAA way" if you're going to actually instruct as a civilian.
If you buy our PC products at www.MilComp.com you get an effective "military discount" as we price these cheaper than our regular civilian products.
As we don't control our products as they are sold in the Apple Mac, iOS (iPhone/iPad), and Google / Android app stores, we have no mechanism there to implement a military discount (they might have one - we don't). Still, our apps are reasonably priced (certainly cheaper than classroom courses or 'cram' providers) and you get to study immediately on your own time, offline or off.
To prep for the MCN test, get our GroundSchool Commercial Pilot test prep for the platform of your choice. You can select the MCN test specifically from the list of tests provided there and the resulting question set will be filtered to those that apply to the MCN test only.
To prep for the MCI test, get our GroundSchool Flight and Ground Instructor test prep for the platform of your choice. You can select the MCI test specifically from the list of tests provided there and the resulting question set will be filtered to those that apply to the MCI test only.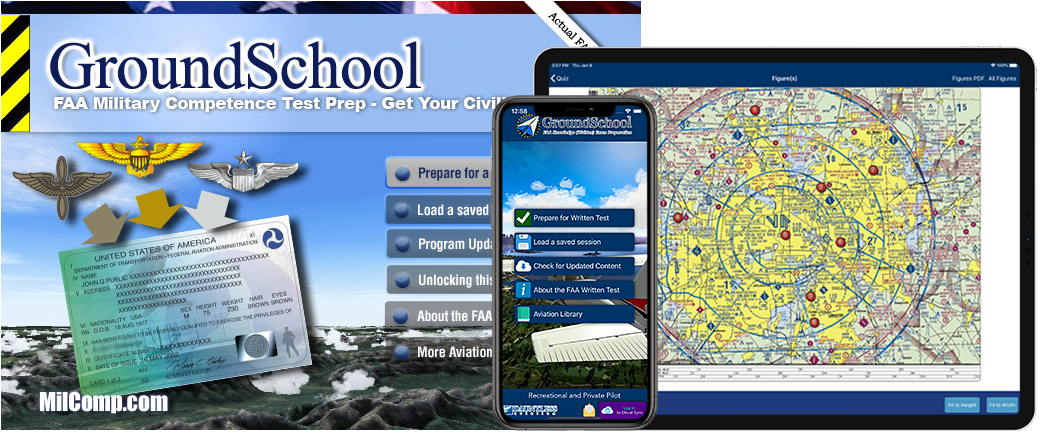 ---
Some more Frequently Asked Questions:
What do I do after I take the MCI test to actually receive the FAA certificate?

he general procedure is: after you pass the MCI test, take your paperwork to a DPE (Designated Pilot Examiner) or FAA FSDO. You will be issued with flight instructor certificates commensurate with any military instructor certificates you hold. For example, if you are a multi-engine airplane instructor, you will get multi-engine airplane instructor privileges.

Do I need to take the MCN test also if I want to be a civilian flight instructor?

We have yet to get a definitive answer on this. However, to us it seems logical that you will need to take this too to get your civilian commercial pilot certificate in most cases. So, if you have no pilot certificates or ratings, consider taking both the MCN test and the MCI test.

I am a complex case - do I need to take the test?

Some people have complex backgrounds or certification histories and wonder if they need to take the test and what applies to them. If your case is complex, don't ask us - rather, ask the FAA via your local FAA FSDO. That's what the FAA FSDO is there for! When you call the FSDO, make a note of the name of the inspector you speak to and the time of your call - this way you will have a record for the future. Think about it - while we do make some great test preparation materials, do you really want to be asking a private company for quasi-legal advice such at this when official straight-from-the-horse's mouth advice is just a phone call away? Unfortunately, too often people write to us with multi-page complex tales of their flight experience asking for advice and all that we can reasonably do is direct such people to their FAA FSDO. Thank you for your understanding.

I am a military pilot but not a military flight instructor. What can I do do get an FAA civilian flight instructor certificate?

Take the MCN test as necessary to get your FAA civilian Commercial Pilot certificate. Then, follow the normal civilian route to becoming an FAA flight instructor. That is, take both the Fundamentals of Instruction written test, a Flight Instructor test corresponding to the aircraft you fly (usually FIA or FIH - flight instructor airplane or helicopter) and then take a practical test (checkride) which can be scheduled with an FAA pilot examiner. If you are not (have not served as) a military flight instructor then there is no point in you taking the MCI - that route is closed to you. Again, please contact your local FAA FSDO if you have questions relating to your specific case.

How does your product compare with others?

A competitor of ours, heavy into 'social marketing' and spreading utter BS, is hoping that you won't actually do your homework to verify what they say, encourages you to compare their product to ours. Ok, let's compare!

We are Less Expensive / Reasonably Priced. They cost more.
We have actual and realistic FAA test questions and a decades long track record of successful test prep. Again, as far as we are aware, every person who has used our test prep for the military competence tests and has done the requisite study has passed their tests on the first try.
We have the best, often illustrated, explanations in the business to best prepare you for whatever unpublished questions the FAA is increasingly throwing test takers' way. The FAA is increasingly using unpublished questions to combat against 'cram schools' and 'cram apps' that don't do anything educationally useful. Any competitor who in 2020 claims they don't do this and that they "always" have all the current questions is not being honest. This is true even if they have some sleight-of-hand, less-than-it-seems, "no new questions" guarantee. By contrast, they provide either poor or no explanations at all.
We have question banks that are actively worked on by our editorial team and whose number of questions accurately reflects current FAA practice on the military competence tests. Our professional team of pilots and pilot examiners have been working on FAA test prep since 1997 and it's safe to say are the best in the business at this point.
We offer you a lifetime license so that you can go back and study later to brush up on things. They don't.
We offer our prep on a variety of platform types (PC, Mac, iOS, and Android)
We can prep you anywhere. You can use our prep both online and off.
Our preps (via the explanations) offer an integrated glossary to help you adjust to civilian terms (learn "the FAA thinking") better.
We support our apps. Our tech support is standing by via this helpdesk.
We can prep you faster. Our apps feature a highly polished, very time-efficient, slick user experience. Fast study, fast pass.

(Mic Drop).

I have further questions.

No problem. We're here to help.

First, please check www.MilComp.com as you can find our apps and a bunch more answers there.
If that doesn't get you what you need, please contact us via our helpdesk.