You're invited to download our RideReady: Private and Recreational Pilot (Airplane) software. It is intended to help you pass your FAA Private and.or Recreational checkride (practical test) oral exam. You can download it from below and be studying for your checkride in a matter of minutes.
You might be wondering. Is this software for me?
If you want to be a certified pilot, either for recreation or as a potential career, then, yes, this software is for you. This applies regardless of whether you have already started your training or not.
Let us explain. This software is largely a collection of questions and answers. Over 1000 of them, actually! Taken as a whole, these represent a wide variety of knowledge applicable towards a Private and/or Recreational Pilot certificate. This is stuff that you should know for your Private Pilot Practical Test (checkride) - that combination flight and oral exam that you (most often) take with an FAA Designated Pilot Examiner (DPE). The Practical Test is a different test from your FAA Knowledge test, which you take earlier in your flight training. If you'd like to prepare for your knowledge (written) test, please check out our FAA Knowledge Test Preparation software.
You might be wondering - if I haven't started my training then, how could this software possibly benefit me?
You'd be hard-pressed to find a flight instructor anywhere who would disagree with the following statement: the more you know, the more value you get for your trainng. The more you know before you show up, the better prepared you will be when you actually go fly. You'll have more fun and save money by not learning in the air what you could have learned on the ground. If you really want to become a pilot, the best thing you can do is study early and often.
Fortunately, RideReady makes this easy. If you're like most people, when you read the material in our question-and-answer style, the information is absorbed and retained more naturally. The information provided by RideReady, written by professional pilots, flight instructors, and ex-examiners, is the result of thousands of hours of flight and ground instruction experience and is intended to conform strictly to (quite good, actually) FAA recommendations and standards. Furthermore, RideReady is regularly updated. Remember - RideReady includes free lifetime updates so you can always have the latest and greatest via the built-in self-update feature. Hundreds of charts and illustrations guide your learning further.
RideReady is compatible with all Private and Recreational pilot programs. This means, regardless of whether you are learning with an indpendent flight instuctor, a local flight school, or a giant airline preparation academy, the software will help you reach your goals faster.
In short, we feel that RideReady takes a realistic approach to the Private and Recreational Pilot practical tests (checkrides), and this has been confirmed through the positive experiences of pilots and reviewers. Please do try it out and download it.
Get RideReady
The best way to get a feel for our RideReady PC software is to download it from below it and try it out! The PC software demo is free (and if you decide to purchase it, the price is very reasonable.)
RideReady Title
Download

RideReady: Private and Recreational Pilot (Airplane)
PC Software for MS-Windows™

RideReady: All Titles Bundle (Airplane, Helicopter, etc.)
PC Software for MS-Windows™
What is this? Warning - large download

RideReady
Titles for iPhone™ and iPad™

| | |
| --- | --- |
| | RideReady for Mac™ |

RideReady
Titles for Android™
Having difficulty? Please visit our helpdesk for frequently asked questions and personalized support.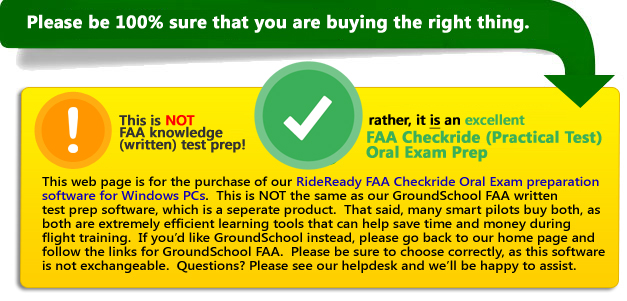 Airplane

Private Pilot
and Recreational Pilot

$


buy now

Instrument Rating (IFR)
and Flight Instructor Instrument

$


buy now

Commercial Pilot


$


buy now

Flight Instructor (CFI)
Including Fundaments of Instruction (FoI) knowledge areas required for FAA CFI checkrides.

Takeoff Bunde **Great Value**
Get your aviation career off right! For the serious and dedicated pilot. Includes RideReady Private Pilot, IFR, Commercial Pilot, and Flight Instructor titles at a special combo price. Remember, all RideReady titles include free lifetime upgrades.
Multi-Engine Rating
$


buy now

Airline Transport Pilot (ATP)


ProPilot Bunde **Best Value**
For the serious and dedicated professional (airline?) pilot of the future! Includes all six airplane RideReady titles at a special combo price. Includes free lifetime upgrades, so even if it will take you some years to finish all these certificates / ratings, it'll be waiting for you. Plus, you can get started training early, which will make your training as smooth as possible.

Seaplane Pilot
RideReady: SeaPlane pilot will help you prepare for either the Private Pilot Seaplane or Commercial Pilot Seaplane checkride (either add-on or initial).

Tailwheel Transition
Make your transition to tailwheel flight as easy as possible by learning the knowledge material first by using RideReady: Tailwheel Transition before or during your tailwheel course.

Thanks for checking out the software! Good luck on your test, and blue skies!

The FAATest.com Team
© 2023 Dauntless Aviation • 4950C York Road 110, Buckingham, PA, 18912, USA • Contact Us • Privacy Policy