HOBBY MASTER NEWS FOR FEBRUARY 2021

---
February 5, 2021
The following list are the Hobby Master models scheduled to ship from Hong
Kong around the end of May 2021:

Hobby Master 1/48 Air Power Series

HA8752

BF 109G-6 "Yellow 6", Ofw. Alfred Surau, 9./JG 3, Germany, September 1943


HA8753

BF 109G-6 "Juutilainen" "White 0"/MT-451, 1/LeLv34, Finnish Air Force, June 1944



Hobby Master 1/72 Air Power Series

HA19023

F-4EJ Kai "Last Phantom" 17-8440, 301 Squadron, JASDF


HA19024

F-4J Phantom II 153887, VMFA-235 "Death Angels", 1972


HA19050

RF-4E "Norm 83A" 35+67, AufklG 52, Luftwaffe, Leck 1992


HA3507

McDonnell Douglas F/A-18C J-5018, 18th Sqn "Panthers" Swiss Air Force, November 2009


HA3532B

FA-18C Swiss Air Force regular livery comes with decals for J-5001 to J-5026)


HA3556

F/A-18A Hornet "20 years F/A-18" A21-26, RAAF, 2005


HA3557

CF-188A "Canada Special Marking 2012" RCAF demonstration team


HA3885

Lockheed F-16AM J-015 "Solo Display" Dutch Air Force, 2009


HA4598

F-15E "75th D-Day Anniversary scheme" 91-0603, 494th FS RAF Lakenheath, June 2019


HA4599

F-15C "75th D-Day Anniversary scheme" 84-0010, 493rd FS RAF Lakenheath, June 2019


HA6704

Tornado GR.1 "Mig Eater" ZA447/EA, No. 15 Sqn, RAF, Tabuk AB, Saudi Arabia, 1991


HA6705

Tornado IDS MM7071 6-35, 6 Stormo 102 Gruppo, Italian Air Force, April 2001


























February 3, 2021
I added photos for the following Hobby Master models:

Hobby Master 1/72 Air Power Series

HA1526

T-6G Texan 49-3477, USAF Air Training Command, Columbus AFB, 1955


HA1527

T-6G Texan 51-14337, 75th FIS, Presque Isle AFB, 1952


HA4523

F-15E Strike Eagle 87-0173, 389th FS, Mountain Home AFB, 2018


I will be adding the May releases very soon and after that Chinese New
Year will begin so there probably will be a drought of updates for the
next 3 weeks or more, except possibly for new arrivals at the U.S.
distributor's.

---
February 9, 2021
A new shipment of Hobby Master models arrived at the U.S. Distributor's and
will be on their way to your favorite retailers shortly. To view list click
HERE

---
February 19,202
1

Chinese New Year has begun so there probably will be a drought of
updates for the next few weeks or more. Hobby Master will return the
24th but it will take some time to get spooled up and back to normal.

---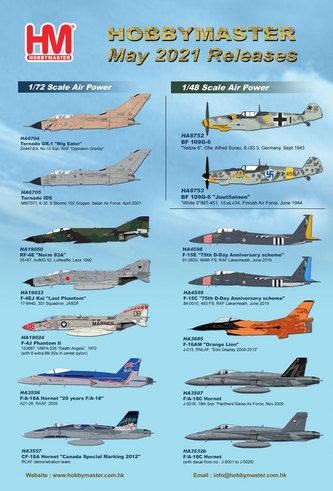 ---
This new site is being updated regularly and it will be much improved before too long. Please be patient, give it time, and check back regularly. Opportunities for community collaboration are in the works for a little further down the road.
---
This is not a retail site. You cannot buy models here.
Thanks to Dauntless Aviation for providing web hosting and other support for this site. Real or sim pilot? Check out their stuff!
This is not an official site of any manufacturer or retailer. Information provided here may be incomplete or in error. Use at your own risk.
This is not an "advice" site. Please do not contact us asking about these models. Please contact a manufacturer or retailer with your questions or comments.
Please update your links!

Update HomePage links from the HMC website to either www.MetalWings.com or, preferably, www.dauntless-soft.com/MetalWings.
Update your page links to this page from HMCwebsite/newsFebruary2021.html to http://www.dauntless-soft.com/MetalWings/newsFebruary2021.asp

This site will be modified over time. We are well aware of its many issues, including missing images and bad formatting.
© 2023 Dauntless Aviation • 4950C York Road 110, Buckingham, PA, 18912, USA • Contact Us • Privacy Policy