BODY {font-family:"Arial"; font-size:18;margin:0px;padding:0px;text-align:center;min-width:776px;} #centerwrapper {text-align:left;width:776px;margin-left:auto;margin-right:auto;}
Hobby Master 1/72 Air Power Series

HA1527
T-6G Texan
51-14337, 75th FIS, Presque Isle AFB, 1952

Die-cast metal.
Superb detailing in 1/72 scale.
Pre-painted with pad applied markings.
Fully assembled.
Display stand included.
Option to display model with wheels up or down.
Minimum use of plastic.
Very collectable

---
"The Pilot Maker" was the name the North American T-6 Texan earned over the years.
With over 17,000 produced in several versions these planes trained countless
thousands of would-be pilots from every corner of the world. This little plane had a 58-
year career in military service from 1938 until 1996 when the South African Air Force
became the last air force in the world to retire their T-6. Even after most military retired
the plane hundreds if not thousands of them found a new life in civilian service.

On January 12, 1951 the 75th FIS was re- activated at Presque Isle Maine. Part of the
75th FIS was a basic training facility with one of the aircraft being T-6G 51-14337 MSN
182-24 delivered to the 75th FIS on December 11, 1951. Damaged when it ground
looped on April 25, 1952 it was put in storage in Arizona. In January 1956 the aircraft
was delivered to France where it was modified for counter insurgency operations for the
French Air Force in North Africa. In 1965 the aircraft was SOC.


Specifications North American Harvard T-6

Type: two-advanced trainer/dive bomber.

Powerplant: 1 X Pratt-&-Whitney R-1340-AN-1 Wasp engine.

Performance:
Maximum speed – 209 mph (337 kph) (182 knots)
Cruising speed – 145 mph (233 kph) (126 knots)
Operational range – 630 miles (1,014 km)
Service ceiling - 24,000 ft (7.3 km)

Weights:
Empty – 4,860 lb (1814kg)
Maximum takeoff – 5,249 lb (2381kg)

Dimensions:
Wing span – 41.99 ft (12.80 m)
Length – 29.49 ft (8.99 m)
Height – 11.68 ft (3.56 m)

Armament:
2 X 0.5 cm machine guns with 8 X 50 kg bombs under the wings
or
1 X 0.303 machine gun with 16 X 80 mm rockets and 4 X 50 kg bombs under the wings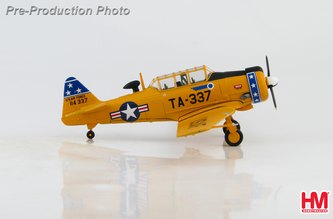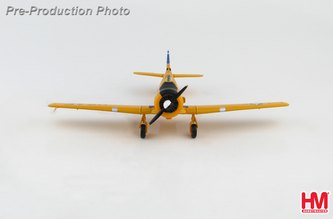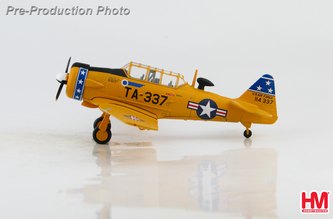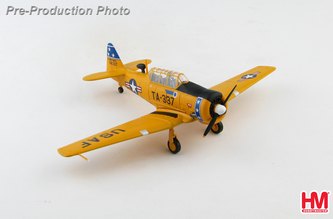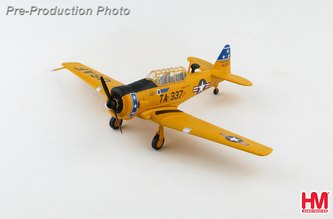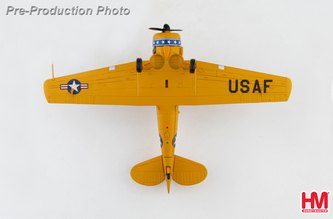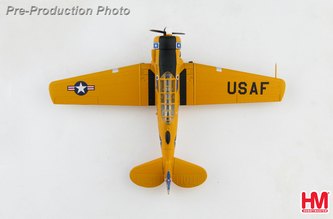 ---
This new site is being updated regularly and it will be much improved before too long. Please be patient, give it time, and check back regularly. Opportunities for community collaboration are in the works for a little further down the road.
---
This is not a retail site. You cannot buy models here.
Thanks to Dauntless Aviation for providing web hosting and other support for this site. Real or sim pilot? Check out their stuff!
This is not an official site of any manufacturer or retailer. Information provided here may be incomplete or in error. Use at your own risk.
This is not an "advice" site. Please do not contact us asking about these models. Please contact a manufacturer or retailer with your questions or comments.
Please update your links!

Update HomePage links from the HMC website to either www.MetalWings.com or, preferably, www.dauntless-soft.com/MetalWings.
Update your page links to this page from HMCwebsite/HA1527.html to http://www.dauntless-soft.com/MetalWings/HA1527.asp

This site will be modified over time. We are well aware of its many issues, including missing images and bad formatting.
© 2023 Dauntless Aviation • 4950C York Road 110, Buckingham, PA, 18912, USA • Contact Us • Privacy Policy