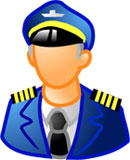 Gulfstream V
Hello and thank you for your interest in purchasing AirCards!

To Purchase AirCards for Microsoft Windows ...
You're just a few moments away from getting full access to the AirCards question bank that you selected (Gulfstream V) for Microsoft Windows. Make sure that Gulfstream V is the aircraft that you are interested in, as it won't be possible to change this later. If it isn't, go back to the page before this and choose the right one. If you are indeed interested in AirCards - Gulfstream V, select one of the four purchase options below and then the 'continue' button.
We invite you to purchase our "All Aircraft" title. This will allow you to access on your PC all current and future AirCards titles. This represents great value for many pilots, including:
Those who currently or in the future fly / may fly several different aircraft types
Those who may interview for several different flying positions, and want to be able to into the interview with some knowledge about multiple aircraft types.
Those who are genuinely curious about several different aircraft.
Please note: we are unable to retroactively apply 'credit' for prior purchased individual AirCards titles towards the purchase of this "All Aircraft" package. Therefore, we suggest that you strongly consider the "All Aircraft" package at once - since who knows where your career may take you and this will help you be maximally prepared!

This purchase process above is for the MS Windows PC version of AirCards only.
| | | | |
| --- | --- | --- | --- |
| If you are interested instead in getting the other versions click on buttons beside: | | | |
© 2020 Dauntless Aviation • 4950C York Road 110, Buckingham, PA, 18912, USA • Contact Us • Privacy Policy