P38 Lightning found on beach
November 15 2007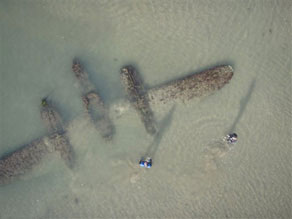 Sixty-five years after it ran out of gas and crash-landed on a beach in Wales, an American Lockheed P-38 Lightning fighter plane has emerged from the surf and sand where it lay buried — a World War II relic long forgotten by the U.S. government and unknown to the British public.
During those decades, beach strollers, sunbathers and swimmers were often within a few yards of the aircraft, utterly unaware of its existence just under the sand.
Only this past summer did it suddenly reappear due to unusual conditions that caused the sands to shift and erode.
© 2022 Dauntless Aviation • 4950C York Road 110, Buckingham, PA, 18912, USA • Contact Us • Privacy Policy