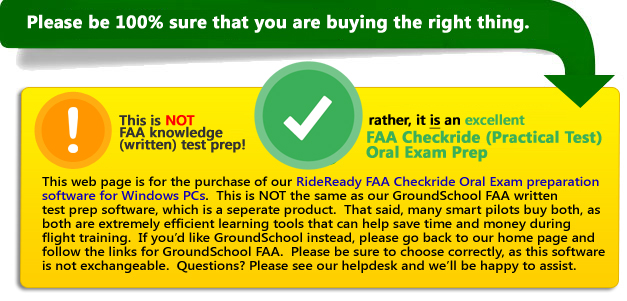 Airplane

Private Pilot
and Recreational Pilot

$38.99


buy now

Instrument Rating (IFR)
and Flight Instructor Instrument

$38.99


buy now

Commercial Pilot


$38.99


buy now

Flight Instructor (CFI)
Including Fundaments of Instruction (FoI) knowledge areas required for FAA CFI checkrides.

Takeoff Bunde **Great Value**
Get your aviation career off right! For the serious and dedicated pilot. Includes RideReady Private Pilot, IFR, Commercial Pilot, and Flight Instructor titles at a special combo price. Remember, all RideReady titles include free lifetime upgrades.
Multi-Engine Rating
$38.99


buy now

Airline Transport Pilot (ATP)


ProPilot Bunde **Best Value**
For the serious and dedicated professional (airline?) pilot of the future! Includes all six airplane RideReady titles at a special combo price. Includes free lifetime upgrades, so even if it will take you some years to finish all these certificates / ratings, it'll be waiting for you. Plus, you can get started training early, which will make your training as smooth as possible.

Seaplane Pilot
RideReady: SeaPlane pilot will help you prepare for either the Private Pilot Seaplane or Commercial Pilot Seaplane checkride (either add-on or initial).

Tailwheel Transition
Make your transition to tailwheel flight as easy as possible by learning the knowledge material first by using RideReady: Tailwheel Transition before or during your tailwheel course.
---

Note: The Frequently Asked Questions below are intended to familiarize you with the basics of the product. For technical support FAQs for this product plus, additional FAQs, please visit our helpdesk

How long is my purchase good for?

Your purchase is good for life! When you buy a RideReady app from us you get LIFETIME FREE UPDATES to both the content and the app itself for the platform version you have selected. What this means is that should newer versions of the questions or app that we provide become available, you will be welcome to download them at no additional charge. All that we ask you remember is that the apps are for your own personal use and may not be shared with others.

How does the content vary between platforms?

It doesn't. It's 100% exactly the same on all platforms.

Which platform version is the best to study on?

There is no "one size fits all" answer to this. All the platform versions are very good. The main differences where there are any are in interface - a tablet based app will look a little bit different than PC or Mac software in order to explot the strengths of a tablet, for example. But these differences are truly minor and the takeaway is that each version is very good and is optimized to get you studying quickly and efficiently.

How does the purchase process work (Mac, iOS - iPhone/iPad, and Android)

Select the product of your choice from the page you visit from above
This will take you to a page on the official app store / app market where you can purchase the title you are interested in. All of our apps on the official Mac, iOS, and Android app stores have passed a rigorous technical independent screening and evaluation process to help ensure that they will work great on your compatible device.

Please note that due to rules set by Google and Apple that we and all developers must play by and that we have no role in setting and cannot 'get around', if you are interested in getting the app on multiple platforms (such as Mac and iOS or Android and Mac), you'd have to purchase each platform version separately. Sorry about that, but those are the rules set by Apple and Google and they have strong technical restrictions in place to make sure it is this way.

How does the purchase process work? (PC)

First, select a product above and click on the corresponding 'buy now' button or link. This will take you to our secure order screens. The screen will open in a new window.
Next, complete the online purchase process. There are several ways of ordering via the secure e-commerce servers of Digital River, the company that handles orders for us. Most people purchase online with a credit card - this is in practice HIGHLY secure and in many years of doing business, there have been ZERO problems with this (SWreg's specialty is online software sales - they do a very good job). However, if you are uncomfortable with this or want to pay using an alternate means (check / PayPal, etc), SWreg will accept that, too. Simply start the order process online (choose the product, fill in the details on the page after that), and then before you go to payment, you will have a choice of many alternate payment methods.
After you have completed the order process, your unlock code will arrive in your email inbox. Use this unlock code to transform the version of the software that you downloaded into the fully working version.

The whole process, start to finish, takes only a few minutes. You can be studying for your checkride / rating / course with no restrictions in just a few moments!



If you have additional questions, please visit our helpdesk. where our team is standing by to help you.
© 2023 Dauntless Aviation • 4950C York Road 110, Buckingham, PA, 18912, USA • Contact Us • Privacy Policy