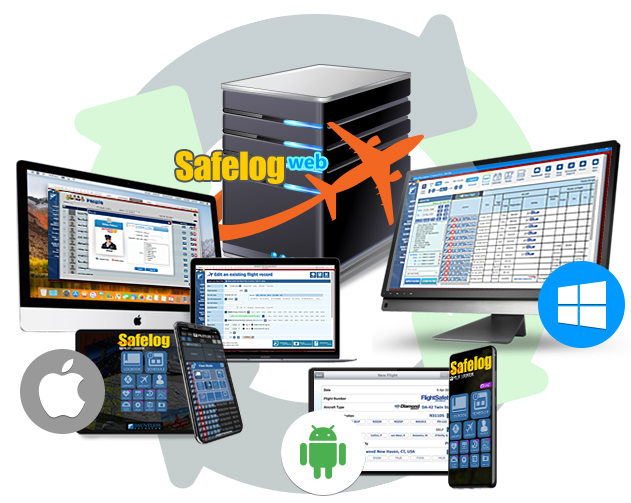 Safelog is a unified system that works across multiple platforms. With a single Safelog subscription, you or your pilots can use Safelog on any or all of the following:
Safelog Windows PC program
Safelog for Mac program
Safelog for iOS (iPad and iPhone) app
Safelog for Android app
SafelogWeb.com browser-based web portal
There are no "per device" or "per platform" fees. Some pilots use Safelog on just one platform, others use multiple. It's completely up to the individual pilot. No matter what you choose, your logbook data will be synchronized and available to you on all of your Safelog devices. Log flights wherever you happen to be and have the comfort of knowing that there's a Safelog version available that will work on whatever your next phone, tablet, or computer will be. Easy to use, feature-rich, future proof, multiply-redundant, available everywhere. That's the Safelog system.

If you haven't already, you can try a free demo of Safelog on the platform or platforms of your choice. (You can even try it on multiple platforms at once while in demo mode (such as PC and iPad) to see how things sync together if you wish.)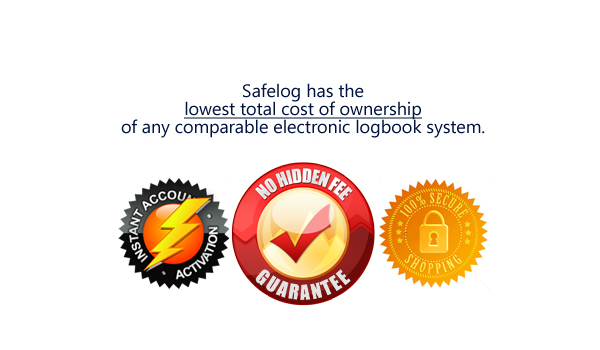 Safelog licenses are sold by the year (12 months). Unlike with some of our competitors, there are no additional or hidden charges. Safelog represents, by far, the best value from a price/performance standpoint of any electronic pilot logbook product, product, period. Generally speaking, most users will get the best price by purchasing a subscription via our SafelogWeb.com portal. That is, go to SafelogWeb.com, sign up for a free account or log in to your existing trial account, and then click on the 'account' screen to purchase a paid subscription there.

Here's the current pricing for individual licensees purchased via SafelogWeb.com:

| | |
| --- | --- |
| Subscription Length | Price |
| 1 year | $59.99 |
| 3 years | $139.99 |
| 5 years | $199.99 |
| 10 years | $399.98 |
| Lifetime | $549.99 |

No matter which platform you purchase your subscription from, the prices should be about the same on each, though at times there may be some variation due to currency conversion and sales tax/vat differences. If the price you are asked to pay on the checkout page isn't the same as the above, look to see if the price includes VAT/Tax as our merchant providers unfortunately have to add this as required in various places.

Step by Step Purchase Instructions:

Obtain the Safelog app for any available platform or simply log in at www.SafelogWeb.com. Create a free demo account if you don't have one already. SafelogWeb.com/SignUp.
Log click on 'My Account'. There, you'll be presented with the subscription options.
Complete the purchase process. Your subscription will now work on ALL supported Safelog platforms regardless of whether you bought the subscription via SafelogWeb, via the Apple or Google app store, or anywhere else.
That's it, you're good to go! All set up in just moments from now.
If you're an existing user, please log in to your Safelog account on any platform and click on 'my account' to find out about extending your subsciption.

The price to extend an active subscription is the same as it costs to buy a new one - that is, extending your subscription by, for example, 3 years, costs the same as buying a new 3-year subscription.

If you're an active Safelog user and want to extend your subscription now, please log in to your account at SafelogWeb.com and click on 'My Account' once you're in.
© 2023 Dauntless Aviation • 4950C York Road 110, Buckingham, PA, 18912, USA • Contact Us • Privacy Policy