BODY {font-family:"Arial"; font-size:18;margin:0px;padding:0px;text-align:center;min-width:780px;} #centerwrapper {text-align:left;width:780px;margin-left:auto;margin-right:auto;}
1/72 FLYING HEROES SERIES

SM8008
TBD-1 Devastator
BuNo 0308, VT-8, USS Hornet,
4th June, 1942 "Battle of Midway"

---
1/72 scale
Mostly die-cast metal
Free spinning propeller
Very little plastic
Option to display model with wheels down or up
Display stand included

The Douglas TBD-1 Devastator was designed as a torpedo bomber for the USN and entered
service in 1937. The TBD Devastator marked a lot of firsts for the USN. It was the first widely-
used carrier-based monoplane, first all metal USN aircraft, first completely enclosed cockpit that
stretched almost half the length of the fuselage, first hydraulic folding wings. When bombing the
bombardier would lie under the pilot seat and look through a window in the floor to doing his
sighting.

The Battle of Midway took place from June 4 – 7 1942. Japan sent four carriers, two battleships,
twelve destroyers and one light cruiser. The Americans knew of the Midway attack and were
prepared. Once the main Japanese force was located Rear Admiral Spruance launched a hasty
Devastator attack from his three carriers that left his 41 Douglas TBD-1s unescorted. Only four
Devastators returned to Enterprise, two to Yorktown and none to Hornet. Devastator 0308 was
lost with its crew LT(jg) Jeff Davis Woodson and Otway David Creasy, Jr., ARM2c.



Specifications Douglas Aircraft Company TBD-1 Devastator

Role – torpedo bomber

Number manufactured – 130

First flight – April 1935

Powerplant
1 x Pratt-Whitney R-1830-64 "Double Wasp" air-cooled radial engine, producing 900 hp (671 kW)
on take-off, 850 hp (634 kW) @ 8,000 ft (2,438 m)

Weights
Empty – 6,182 lbs (2,804 kg)
Gross – 9,862 lbs (4,473 kg)
Maximum take-off – 10,194 lbs (4,623 kg)

Performance
Maximum speed – 206 mph (331 km/h) @ 8,000 (2,438 m)
Cruising speed – 128 mph (205 km/h)
Landing speed – 68 mph (109 km/h)
Service ceiling – 19,700 ft (6,004 m)
Range
435 miles (700 km) with Mk XIII torpedo
716 miles (1,152 km) with 1,000 lbs (453 kg) bombs

Dimensions
Length – 35 ft (10.69 m)
Wingspan – 50 ft (15.24 m)
Height – 15 ft 1 in (4.59 m)

Armament
Machine gun
1 x 7.7mm Browning (Fixed Forward)
1 x 7.7mm Browning (Tail)

1 x Mk XIII torpedo
Diameter - 21 in (533 mm)
Length - 15 ft (4.57 m)
Weight - 1,200 lbs (544 kg)
Or
1,000 lbs (453 kg) bombs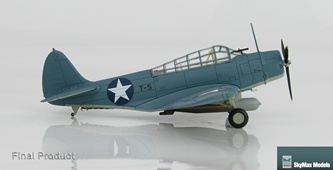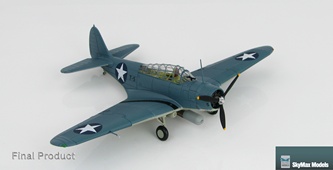 ---
This new site is being updated regularly and it will be much improved before too long. Please be patient, give it time, and check back regularly. Opportunities for community collaboration are in the works for a little further down the road.
---
This is not a retail site. You cannot buy models here.
Thanks to Dauntless Aviation for providing web hosting and other support for this site. Real or sim pilot? Check out their stuff!
This is not an official site of any manufacturer or retailer. Information provided here may be incomplete or in error. Use at your own risk.
This is not an "advice" site. Please do not contact us asking about these models. Please contact a manufacturer or retailer with your questions or comments.
Please update your links!

Update HomePage links from the HMC website to either www.MetalWings.com or, preferably, www.dauntless-soft.com/MetalWings.
Update your page links to this page from HMCwebsite/SM8008.html to http://www.dauntless-soft.com/MetalWings/SM8008.asp

This site will be modified over time. We are well aware of its many issues, including missing images and bad formatting.
© 2023 Dauntless Aviation • 4950C York Road 110, Buckingham, PA, 18912, USA • Contact Us • Privacy Policy