BODY {font-family:"Arial"; font-size:18;margin:0px;padding:0px;text-align:center;min-width:780px;} #centerwrapper {text-align:left;width:780px;margin-left:auto;margin-right:auto;}
---
1/72 FLYING HEROES SERIES

SM7008
Jet Provost T5
The Swords "XW407"

Jet Provost Trainer T5
The BAC Jet Provost 9originally built by Hunting Percival) was a British jet-powered trainer
used by the Royal Air Force (RAF) from 1955 to 1993. The Jet Provost was also a
successful export product, serving in many air forces worldwide.

Jet Provost Specifications
Crew - 2
Length - 34 ft 0 in (10.36 m)
Wingspan - 35 ft 4 in (10.77 m)
Height - 10 ft 2 in (3.10 m)
Empty weight - 4,888 lb (2,222 kg)
Loaded weight - 6,989 lb (3,170 kg)
Max takeoff weight - 9,200 lb (4,173 kg)
Powerplant - 1 x Armstrong Siddeley Viper Mk-202 turbojet, 2,500lbf (11.1 kN)
Maximum speed - 440 mph (382 knots / 708 km/h) @ 25,000 ft (7,620 m)
Range - 900 mi (780 nm / 1,450 km)
Service ceiling - 36,750 ft (11,200 m)
Rate of climb - 4,000 ft/min (20.3 m/sec)
Wing loading - 32.7 lb/ft² (160 kg/m² )

---
1/72 scale
Mostly die-cast metal
Very little plastic
Option to display model with wheels down or up
Display stand included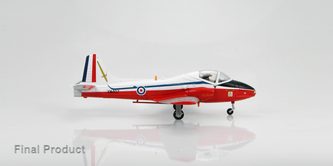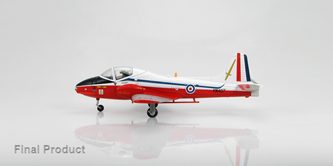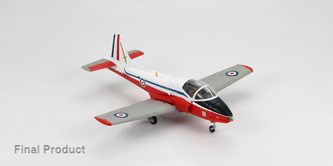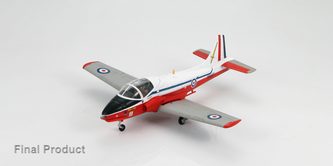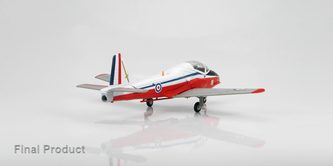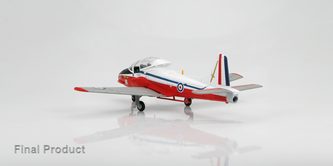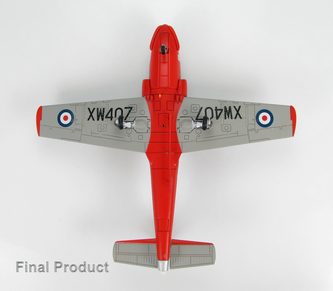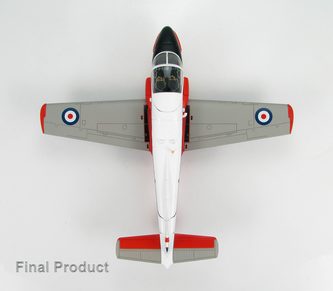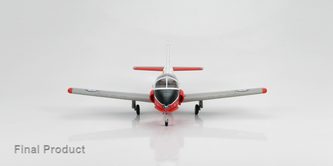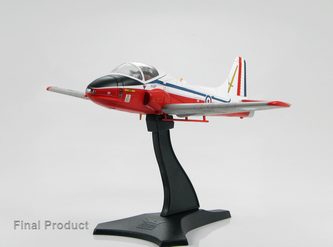 ---
This new site is being updated regularly and it will be much improved before too long. Please be patient, give it time, and check back regularly. Opportunities for community collaboration are in the works for a little further down the road.
---
This is not a retail site. You cannot buy models here.
Thanks to Dauntless Aviation for providing web hosting and other support for this site. Real or sim pilot? Check out their stuff!
This is not an official site of any manufacturer or retailer. Information provided here may be incomplete or in error. Use at your own risk.
This is not an "advice" site. Please do not contact us asking about these models. Please contact a manufacturer or retailer with your questions or comments.
Please update your links!

Update HomePage links from the HMC website to either www.MetalWings.com or, preferably, www.dauntless-soft.com/MetalWings.
Update your page links to this page from HMCwebsite/SM7008.html to http://www.dauntless-soft.com/MetalWings/SM7008.asp

This site will be modified over time. We are well aware of its many issues, including missing images and bad formatting.
© 2023 Dauntless Aviation • 4950C York Road 110, Buckingham, PA, 18912, USA • Contact Us • Privacy Policy