True 1/72 scale.

Professionally painted.

Great attention to detail.

All markings are Tampoed (pad applied).

Option to display the model on a stand that is provided.

Model can be shown with the landing gear in the down or up
positions.

Canopy can be displayed open or closed.

Pilot figure included.

Extremely heavy metal with a minimum of plastic.

Highly collectable.

The Sukhoi Su-35S Flanker E is a highly modified and improved derivative of the Su-27.
In the 1980s modifications were made to the Su-27 (Su-27M) also referred to as Su-35.
About 20 years later a heavily modified member of the Flanker family was produced and
given the title of Su-35S Flanker E. Considered by many to be the most capable fourth
generation fighter in the sky and equipped with many fifth generation technologies. This
probably will be the last of the Flanker family when the fifth generation Russian aircraft
arrive.

The Russian Knights (Russkiye Vityazi) aerobatic team was established on April 5, 1991
using personnel and equipment from the 237th Guards Proskurov Aircraft Demonstration
Center at Kubinka. The new team was equipped with six Su-27s but in 2017 they were
replaced by the twin-seat Su-30SM wearing an updated paint scheme. On November 7,
2019 the team received four new Su-35S aircraft (50, 51, 52, 53) that would be used in
conjunction with the Su-30SMs depending on the air show. The Russian Knights Su-35S
aircraft are standard factory equipped.


Specifications (Su-35S) Export Variant of the Su-35 Flanker E

Country of origin – Russia

Designer - Sukhoi

Role – Multi-Role Fighter
Crew - 1

Dimensions
Length - 21.9 m (72.9 ft)
Wingspan - 15.3 m (50.2 ft, with Wingtip Pods)
Height - 5.90 m (19.4 ft)

Weights
Empty Weight - 18,400 kg (40,570 lb)
Loaded Weight - 25,300 kg (56,660 lb) With Half Fuel Load
Maximum Takeoff Weight - 34,500 kg (76,060 lb)

Performance
Powerplant
2 × Saturn 117S (AL-41F1S) Afterburning Turbofan with 3D Thrust Vectoring Nozzle
Dry Thrust - 8,800 kgf (86.3 kN, 19,400 lbf) Each
Thrust with Afterburner - 14,500 kgf (142 kN, 31,900 lbf) Each
Fuel capacity - 11,500 kg (25,400 lb) Internally

Speed
Maximum
@ Altitude - Mach 2.25 (2,780 km/h, 1,726 mph)
@ Sea Level - Mach 1.15 (1,400 km/h, 870 mph)
Range
@ Altitude - 3,600 km (1,940 nmi)
@ Sea Level - 1,580 km (850 nmi)
Ferry Range - 4,500 km (2,430 nmi) With 2 External Fuel Tanks
Service Ceiling - 18,000 m (59,100 ft)
Rate of Climb – 280+ m/s (55,000+ ft/min)
Maximum G – 9+ G

Armament
Guns – 1 × 30 mm GSh-301 Internal Cannon With 150 Rounds
Hardpoints – 12
2 x Wingtip Rails
10 x Wing and Fuselage Points
The 12 Points Can Carry - Maximum of 8,000 kg (17,630 lb) Of Ordnance In Varying
Combinations Of
Rockets
S-25L Laser-guided Rocket
S-25 Unguided Rocket
B-8 Unguided S-8 Rocket Pods
B-13 Unguided S-13 Rocket Pods

Missiles
Vympel R-73E/M
Vympel R-74M
Vympel R-27R/ER/T/ET
Vympel R-77
Vympel R-37M
Kh-29T/L
Kh-31P/A
Kh-59ME
Bombs
KAB-500L Laser-guided Bomb
KAB-1500L Laser-guided Bomb
FAB-250 250-kg (550 lb) Unguided Bombs
FAB-500 500-kg (1,100 lb) Unguided Bombs
Other - Buddy Refueling Pod

Avionics
Irbis-E Passive Phased Array Radar
OLS-35 Infra-red Search and Track System
L265 Khibiny-M Electronic Warfare Pod

---
HA5707B
Su-35S Flanker E "Russian Knights"
Blue 50, Russian Air and Space Force (VKS),
November. 2019
This release is the same aircraft as HA5707 but has no BORT
number. decals for 50 - 53 are included


---
Hobby Master 1/72 Air Power Series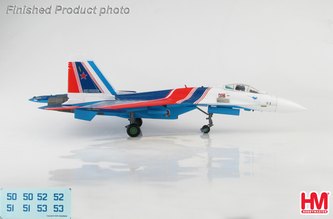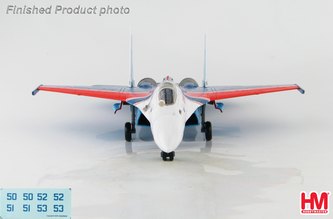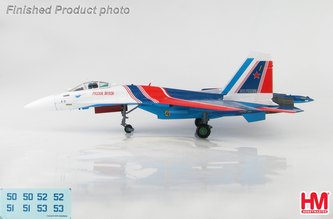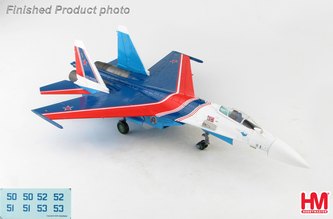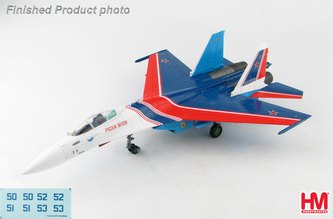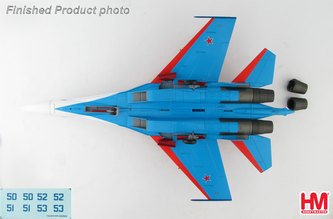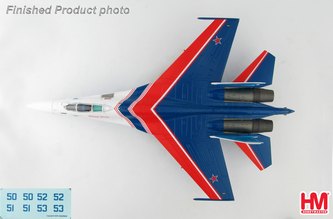 ---
This new site is being updated regularly and it will be much improved before too long. Please be patient, give it time, and check back regularly. Opportunities for community collaboration are in the works for a little further down the road.
---
This is not a retail site. You cannot buy models here.
Thanks to Dauntless Aviation for providing web hosting and other support for this site. Real or sim pilot? Check out their stuff!
This is not an official site of any manufacturer or retailer. Information provided here may be incomplete or in error. Use at your own risk.
This is not an "advice" site. Please do not contact us asking about these models. Please contact a manufacturer or retailer with your questions or comments.
Please update your links!

Update HomePage links from the HMC website to either www.MetalWings.com or, preferably, www.dauntless-soft.com/MetalWings.
Update your page links to this page from HMCwebsite/HA5707B.html to http://www.dauntless-soft.com/MetalWings/HA5707B.asp

This site will be modified over time. We are well aware of its many issues, including missing images and bad formatting.
© 2023 Dauntless Aviation • 4950C York Road 110, Buckingham, PA, 18912, USA • Contact Us • Privacy Policy