BODY {font-family:"Arial"; font-size:18;margin:0px;padding:0px;text-align:center;min-width:780px;} #centerwrapper {text-align:left;width:780px;margin-left:auto;margin-right:auto;}
Hobby Master 1/72 Air Power Series

HA5153
EA-18G Growler
168772, VAQ-131 "Operation Inherent Resolve"

True 1/72 scale.

Professionally painted.

Great attention to detail.

All markings are Tampoed (pad applied).

Option to display the model on a stand that is provided.

Model can be shown with the landing gear in the down or up positions.

Optional armament provided.

Canopy can be displayed open or closed.

Pilot figure included.

Extremely heavy metal with a minimum of plastic.

Highly collectable.

---
---
In order to replace their aging EA-6B Prowlers the USN acquired a specialized version of the F/A-
18F Super Hornet, the EA-18G Growler. The Growler is an advanced airborne electronic attack
aircraft capable of tactical jamming and electronic protection. The first EA-18G Growler flight took
place in August 2006 with the first USN production aircraft being delivered to VAQ129 in June
2008. After operational capability testing full production of the EA-18G Growler began in late
2009. In 2010 VAQ-132, 138 and 141 were re-equipped with the Growler.


In 2017 the aircraft carrier USS George HW Bush was stationed in the Arabian Gulf in support of
Operation Inherent Resolve. The OIR mission was to strike the Islamic State in Iraq and Syria by
flying hundreds of sorties, destroying enemy positions with smart ordnance. VAQ-131 "Lancers"
was onboard to carry out airborne electronic attack missions. VAQ-131 re-equipped with the
EF-18G Growler in 2014 and during OIR flew 1,890 hours completing 270 combat sorties.
EA-18G 168772 was the personal aircraft of the squadron CAG, AJ500.



Specifications for the EA-18G Growler

Role - carrier-based electronic warfare aircraft

Crew – 2 X Pilot and WSO

Dimensions
Length – 60.2 ft (18.3 m)
Height – 16 ft (4.9 m)
Wingspan - 44.9 ft (13.7 m)

Weight
Empty – 33.094 lb (15,011 kg)
Maximum Takeoff – 66,000 lb (29,964 kg)
Recovery – 48,000 lb (21,772 kg)

Performance
Powerplants – 2 X General electric F414-GE400 Turbofans
Thrust
Dry – 14,000 lbf (62.kN) per engine
With afterburners – 22,000 lbf (97.9 kN) per engine
Internal fuel – 13,940 lb (6,323 kg)
External fuel – 3 X 480 gal tanks (9,774 lb) (4,420 kg)
Maximum Speed – Mach 1.8 (1,190 mph, 1,900 kph) @ 40,000 ft (12,190 m)
Range – 1,275 nmi (2,346 km)
Ferry Range – 1,800 nmi (2,070 km)
Service Ceiling – 50,000 ft (15,000 m)

Armament
Hardpoints – 9 X 6 under wings, 3 X under fuselage
Capable of carrying – 17,750 lb (8,050 kg) external fuel and ordnance
6 under wing hardpoints capable of carrying a combination of
Fuel tanks
AN/ALQ-99 Jamming Pods as well as other numerous pods and sensors
AGM-88 HARM missiles
AIM-120 AMRAAM missiles
Wingtip pods – AN/ALQ-218 detection pods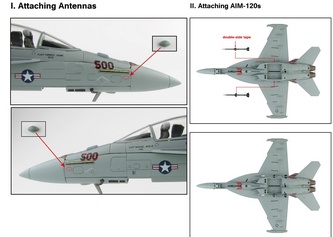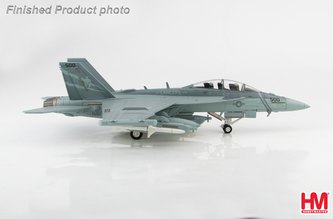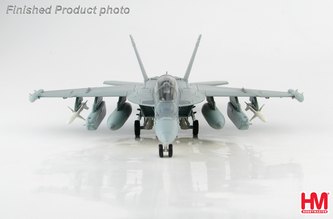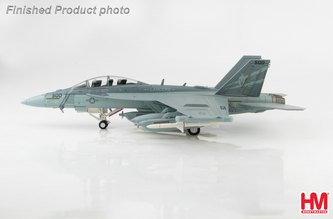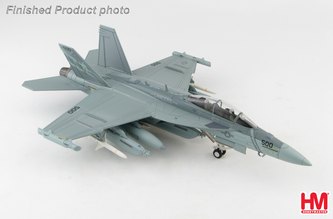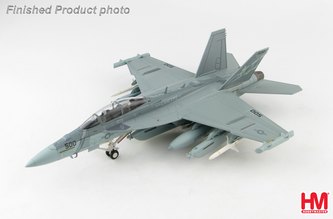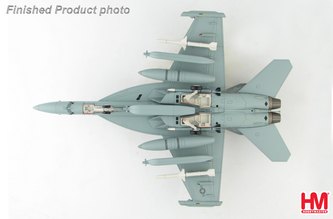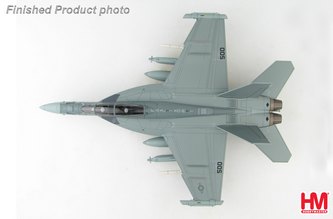 ---
This new site is being updated regularly and it will be much improved before too long. Please be patient, give it time, and check back regularly. Opportunities for community collaboration are in the works for a little further down the road.
---
This is not a retail site. You cannot buy models here.
Thanks to Dauntless Aviation for providing web hosting and other support for this site. Real or sim pilot? Check out their stuff!
This is not an official site of any manufacturer or retailer. Information provided here may be incomplete or in error. Use at your own risk.
This is not an "advice" site. Please do not contact us asking about these models. Please contact a manufacturer or retailer with your questions or comments.
Please update your links!

Update HomePage links from the HMC website to either www.MetalWings.com or, preferably, www.dauntless-soft.com/MetalWings.
Update your page links to this page from HMCwebsite/HA5153.html to http://www.dauntless-soft.com/MetalWings/HA5153.asp

This site will be modified over time. We are well aware of its many issues, including missing images and bad formatting.
© 2023 Dauntless Aviation • 4950C York Road 110, Buckingham, PA, 18912, USA • Contact Us • Privacy Policy