BODY {font-family:"Arial"; font-size:18;margin:0px;padding:0px;text-align:center;min-width:779px;} #centerwrapper {text-align:left;width:779px;margin-left:auto;margin-right:auto;}
Hobby Master 1/72 Air Power Series

HA5119
F/A-18F Super Hornet
166674, VFA-213, USS George H W Bush
"Operation Inherent Resolve 2017"

True 1/72 scale.

Professionally painted.

Great attention to detail.

All markings are Tampoed (pad applied).

Option to display the model on a stand that is provided.

Model can be shown with the landing gear in the down or up positions.

With center weapons pod

Canopy can be displayed open or closed.

Pilot figure included.

Extremely heavy metal with a minimum of plastic.

Highly collectable.

---
---
The McDonnell Douglas Boeing F/A-18E Super Hornet is a twin-engine multi-role carrier-based
aircraft. The "E" variant is single-seater while the "F" variant is a tandem-seat configuration. The
"E" is a much larger, more advanced and more capable variant of the F/A-18C. The Super variant
can carry a larger array of weapons as well as more of them and is capable of returning to the
carrier while still carrying unspent munitions, a big savings in dollars. The first F/A-18E flight was
in 1995 and began delivery to the USN in 1999.

On June 22, 1955 VF-213 "Black Lions" was formed and on April 2, 2006 was re-designated
VFA-213 when the unit transitioned to the Boeing F/A-18F Super Hornet. VFA-213 is based at
NAS Oceana, Virginia and assigned to Carrier Air Wing Eight with call-sign "Lion". In January
2017 VFA-213 departed on board the USS George H.W. Bush in support "Operation Inherent
Resolve" and from February 10 until March 9, 2017 carried out operations from the
Mediterranean Sea. The carrier now sailed to the Persian Gulf and operated there from March
23, until May 22, 2017.



McDonnell Douglas original designer, merged with Boeing 1997

F/A-18E Super Hornet

Crew - F/A-18E x 1 / F/A-18F x 2

Role – Multi-role attack and fighter

Performance
Powerplants – 2 x F414-GE-400 turbofans
Thrust (Static) – 22,000 lbs (9,977kg) per engine
Ceiling – 50,000 ft +
Speed – Mach 1.8 +

Weight – Maximum Gross Take-off 66,000 lbs (29,932 kg)

Dimensions
Length – 60.3 ft (18.5 m)
Height – 16 ft (4.87 m)
Wingspan – 44.9 ft (13.68 m)

Armament
1 x M61A1/A2 Vulcan 20mm cannon (internal)
Possible External Payload
AIM 9 Sidewinder
AIM 7 Sparrow
AIM-120 AMRAAM
Harpoon
HARM
Shrike
SLAM
SLAM-ER
Walleye
Maverick
JSOW (Joint-Stand-Off Weapon)
JDAM (Joint Direct Attack Munitions
An assortment of bombs, mines and rocket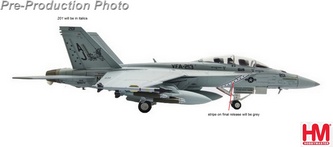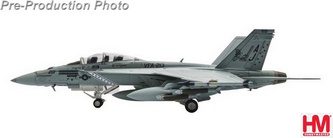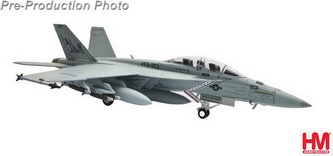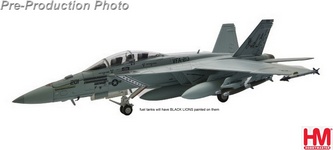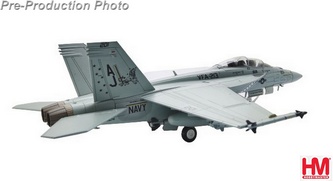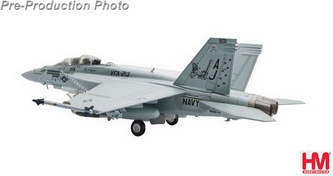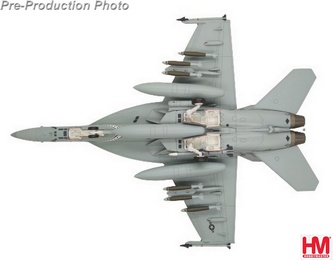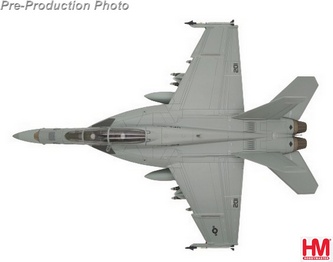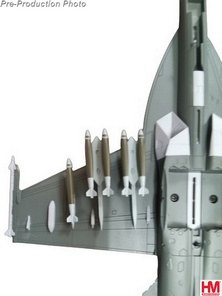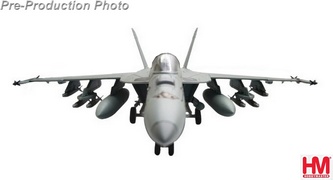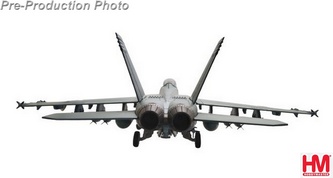 ---
This new site is being updated regularly and it will be much improved before too long. Please be patient, give it time, and check back regularly. Opportunities for community collaboration are in the works for a little further down the road.
---
This is not a retail site. You cannot buy models here.
Thanks to Dauntless Aviation for providing web hosting and other support for this site. Real or sim pilot? Check out their stuff!
This is not an official site of any manufacturer or retailer. Information provided here may be incomplete or in error. Use at your own risk.
This is not an "advice" site. Please do not contact us asking about these models. Please contact a manufacturer or retailer with your questions or comments.
Please update your links!

Update HomePage links from the HMC website to either www.MetalWings.com or, preferably, www.dauntless-soft.com/MetalWings.
Update your page links to this page from HMCwebsite/HA5119.html to http://www.dauntless-soft.com/MetalWings/HA5119.asp

This site will be modified over time. We are well aware of its many issues, including missing images and bad formatting.
© 2023 Dauntless Aviation • 4950C York Road 110, Buckingham, PA, 18912, USA • Contact Us • Privacy Policy