BODY {font-family:"Arial"; font-size:18;margin:0px;padding:0px;text-align:center;min-width:779px;} #centerwrapper {text-align:left;width:779px;margin-left:auto;margin-right:auto;}
Hobby Master 1/72 Air Power Series

HA4911
Lockheed S-3B Viking
BuNo 159746, VX-30 "Bloodhounds", 2016

True 1/72 scale.

Professionally painted.

Great attention to detail.

All markings are Tampoed (pad applied).

Option to display the model on a stand that is provided.

Model can be shown with the landing gear in the down or up positions.

Optional armament provided.

Canopy can be displayed open or closed.

Pilot figure included.

Extremely heavy metal with a minimum of plastic.

Highly collectable.

---
---

In 1974 the Lockheed S-3 Viking entered service with the USN as a twin-engine jet aircraft used
for enemy submarine warfare. By the late 1990's the role shifted to surface warfare providing the
carrier battle group with long range surveillance capabilities and aerial refueling. The S-3 was in
production from 1974 until 1978 with 186 (187) aircraft completed. Most airframes saw upgrades
low pitch sound of the engines earned the S-3 the nickname "Hoover" after the vacuum cleaner.


After the retirement of the Lockheed S-3 Viking from frontline duty some aircraft were transferred
to VX-30 "Bloodhounds". One of the aircraft was Bu.No 159746 BH-702 c/n 3075 that had
previously spent time with VS-22, VS-32 and VS41. The S-3B was used at Point Mugu, California
for range clearance and surveillance of the 36,000 square mile Sea Range. Between 1971 and
1978 179 operational S-3 Vikings were manufactured and assigned to 18 Navy squadrons
accumulating over 1.7 million flight hours.


Specifications for the Lockheed S-3 Viking
Crew – 4 / 1 x Pilot, 1 x Co-Pilot, 1 x TACCO, 1 x Sensor Operator (TFO)

Dimensions
Length – 53 ft 4 in (16.26 m)
Wingspan
Unfolded – 68 ft 8 in (20.93 m)
Folded – 29 ft 6 in (9.00 m)
Height – 22 ft 9 in (6.93 m)

Weight
Empty – 26,581 lb (12,057 kg)
Loaded – 38,193 lb (17,324 kg)
Maximum Take-off – 52,539 lb (23,831 kg)

Performance
Engines – 2 x General Electric TF34-GE-2 turbofans producing 9,275 lb (41.26 kN) of thrust per
engine
Fuel Capacity (JP-5)
Internal – 1,933 US gal (7,320 L)
External – 2 x 300 US gal (1,136 L) tanks
Speed
Maximum
@ Sea Level - 493 mph (795 km/h)
@ 20,000 ft (6,100 m) - 514 mph (828 km/h)
Cruise – 405 mph (650 km/h)
Range – 3,182 miles (5,121 km)
Ferry – 3,875 miles (6,237 km)
Service Ceiling – 40,900 ft (12,465 m)
Rate of Climb – 5,120 ft/min (26 m/sec)

Armament
4 x internal and 2 external Hardpoints capable of carrying an assortment of ordnance weighing a
maximum of 4,900 lb (2,220 kg)
Assortment of Ordnance
10 x 500 lb (227 kg) Mark 82 bombs
2 x 1,000 lb 454 kg) Mark 83 bombs
2 x 2,000 lb (908 kg) Mark 84 bombs
6 x CBU-100 cluster bombs
2 x Mark 50 torpedoes
4 x Mark 46 torpedoes
6 x mines or depth charges
2 x B57 nuclear bombs
2 x AGM-65E/F Maverick missiles
2 x AGM-84 Harpoon missiles
1 x AGM-84H/K SLAM-ER missile
The 2 under-wing hardpoints can hold unguided missile pods or the 300 US gal fuel tanks.

Avionics
AN/APS-116 sea search radar, maximum range 173 miles (278 km)
S-3B upgraded to AN/APS-137 Inverse Synthetic Aperture Radar (ISAR)
OR-89 FLIR camera with 3 X zoom
AN/ARS-2 sonobuoy receiver with 13 blade antennae on the airframe for precise buoy location
Up to 60 sonobuoys (59 tactical, 1 Search and Rescue (SAR)
AN/ASQ-81 magnetic anomaly detector (MAD)
AN/ASN-92 INS with Doppler radar navigation and TACAN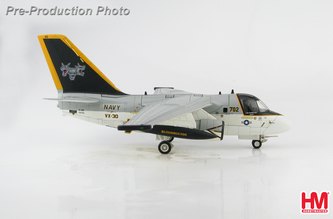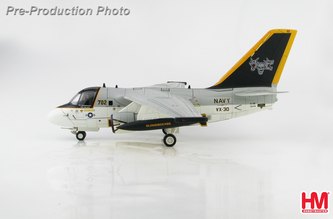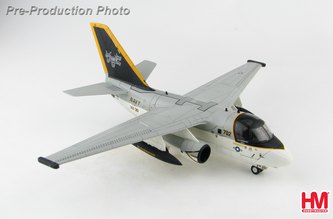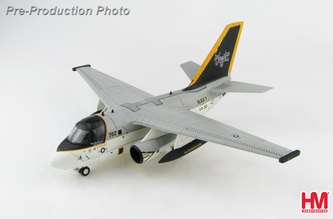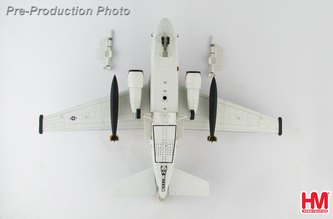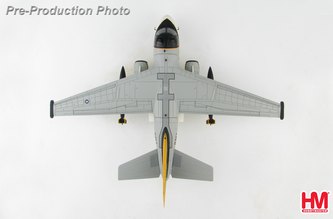 ---
This new site is being updated regularly and it will be much improved before too long. Please be patient, give it time, and check back regularly. Opportunities for community collaboration are in the works for a little further down the road.
---
This is not a retail site. You cannot buy models here.
Thanks to Dauntless Aviation for providing web hosting and other support for this site. Real or sim pilot? Check out their stuff!
This is not an official site of any manufacturer or retailer. Information provided here may be incomplete or in error. Use at your own risk.
This is not an "advice" site. Please do not contact us asking about these models. Please contact a manufacturer or retailer with your questions or comments.
Please update your links!

Update HomePage links from the HMC website to either www.MetalWings.com or, preferably, www.dauntless-soft.com/MetalWings.
Update your page links to this page from HMCwebsite/HA4911.html to http://www.dauntless-soft.com/MetalWings/HA4911.asp

This site will be modified over time. We are well aware of its many issues, including missing images and bad formatting.
© 2022 Dauntless Aviation • 4950C York Road 110, Buckingham, PA, 18912, USA • Contact Us • Privacy Policy