BODY {font-family:"Arial"; font-size:18;margin:0px;padding:0px;text-align:center;min-width:779px;} #centerwrapper {text-align:left;width:779px;margin-left:auto;margin-right:auto;}
---
Radar dish can be revolved

True 1/72 scale.

Professionally painted.

Great attention to detail.

All markings are Tampoed (pad applied).

Option to display the model on a stand that is provided.

Model can be shown with the landing gear in the down or up positions.

Optional armament provided.

Pilot figure included.

Extremely heavy metal with a minimum of plastic.

Highly collectable.

---
Hobby Master 1/72 Air Power Series

HA4816
Grumman E-2C Hawkeye
34-3459, AEW Group, JASDF, Misawa AB, 2019

The Northrop E-2 Hawkeye is an all-weather airborne early warning aircraft (AEW). The E-2 was
a twin-turboprop developed in the late 1950's and early 1960's for the USN. The E-2 is a carrier-
capable aircraft and has received major upgrades in their electronics for the E-2B and E-2C with
the E-2C also receiving improved turbo-prop engines. The E-2 has been in production since the
1960's making it the longest production run of any carrier based aircraft. The E-2C variant
became operational in 1973.


Japan's first of 13 Grumman E-2C Hawkeye went into service with the AEW Group 601st Hikotai
at Misawa in January 1987. A few of these aircraft eventually went to equip the 603rd Hikotai at
Naha. In 2005 the 601st and 603rd were re-designated Hiko Keikai Kanshitai Air Warning
Surveillance Squadrons but in 2014 the Hiko Keikai Kanshitai was split and became 1 and 2 Hiko
Keikai Kanshitai with E-2C 34-3459 c/n A20-953 becoming part of 1 HKK. The E-2C will
eventually be phased out by the newer E-2D.

Specifications for the Northrop E-2C Hawkeye

Number of E-2C delivered – USN/180, USN Reserve for drug interdiction/6, others countries/30
Crew – 5 / 1 Pilot, 1 Co-Pilot, 1 Radar Officer (RO), 1 Combat Information Center Officer (CICO),
1 Aircraft Control Officer (ACO)

Dimensions
Length – 57 ft 8.75 in (17.60 m)
Wingspan – 80 ft 7 in (24.56 m)
Height – 18 ft 3.75 in (5.58 m)

Weight
Empty – 40,200 lb (18,090 kg)
Loaded – 43,068 lb (19,536 kg)
Maximum Take-off – 57,500 lb (26,083 kg)

Performance
Engines – 2 x Allison / Rolls Royce T56-A-427 5,100 shp (3,800 kW) each
Speed
Maximum – 350 knots (648 km/h)
Cruise – 256 knots (474 km/h
Ferry Range – 1,462 nmi (2,708 km)
Service Ceiling – 34,700 ft (10,576 m)
Endurance – 6 hrs

Avionics
AN/APS-145 Radar
OL-483/AP IFF interrogator system
APX-100 IFF Transponder
OL-698/ASQ Tactical Computer Group
AN/ARC-182 UHF/VHF radio
AN/ARC-158 UHF radio
AN/ARQ-34 HF radio
AN/USC-42 Mini-DAMA SATCOM system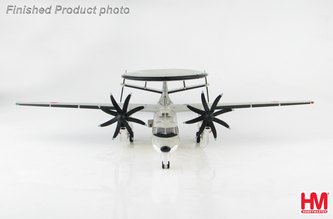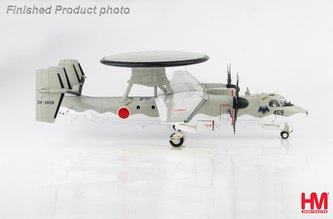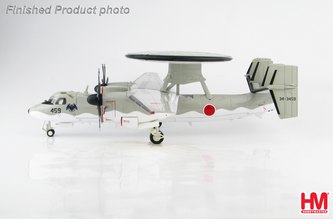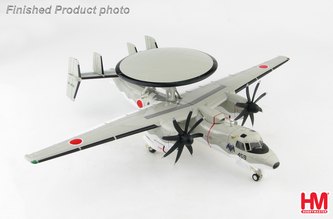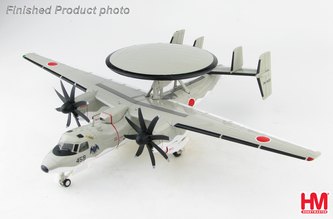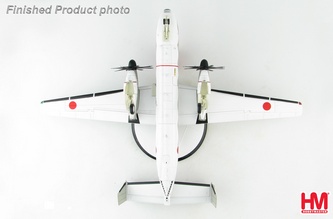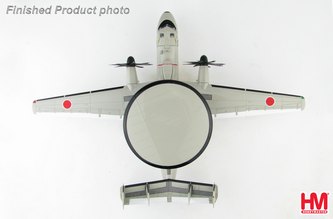 ---
This new site is being updated regularly and it will be much improved before too long. Please be patient, give it time, and check back regularly. Opportunities for community collaboration are in the works for a little further down the road.
---
This is not a retail site. You cannot buy models here.
Thanks to Dauntless Aviation for providing web hosting and other support for this site. Real or sim pilot? Check out their stuff!
This is not an official site of any manufacturer or retailer. Information provided here may be incomplete or in error. Use at your own risk.
This is not an "advice" site. Please do not contact us asking about these models. Please contact a manufacturer or retailer with your questions or comments.
Please update your links!

Update HomePage links from the HMC website to either www.MetalWings.com or, preferably, www.dauntless-soft.com/MetalWings.
Update your page links to this page from HMCwebsite/HA4816.html to http://www.dauntless-soft.com/MetalWings/HA4816.asp

This site will be modified over time. We are well aware of its many issues, including missing images and bad formatting.
© 2023 Dauntless Aviation • 4950C York Road 110, Buckingham, PA, 18912, USA • Contact Us • Privacy Policy