Specifications for the McDonnell Douglas (Boeing) F-15 Eagle


Role
C – Single-seat, all-weather, air-superiority fighter - 483 built
D – Dual-seat variant of the C – 92 built
E – Dual-seat, all-weather, multi-role strike fighter - 237 built

Dimensions
Length - C/D/E 63 ft 9 in (19.43 m)
Wingspan
C/D – 42 ft 10 in (13.06 m)
E – 42 ft 9.75 in (13.05 m)
Height
C/D – 18 ft 8 in (5.69 m)
E – 63 ft 9 in (5.63 m)

Weights
Empty
C/D - 28,600 lb (12793 kg)
E – 31,700 lb (14,379 kg)
Maximum Take-off
C/D – 68,000 lb (30,844 kg)
E – 81,000 lb (36,741 kg)

Engines
C/D – 2 X P&W F100-PW turbofans with afterburners, each engine rated @ 25,000 thrust
(11,250 kg)
E/F – Prior to August 1991 - 2 X P&W F100-P-220 turbofans, each rated @ 14,670 ls st (65.26
kN) dry and 23,830 lb st (106.0 kN) with afterburners
After August 1991 – 2 X P&W F100-PW-229 turbofans, each rated @ 17,800 lb st (79.18 kN) dry
and 29,100 lb st (129.45 kN) with afterburners

Range
C/D
Ferry - 3,450 miles (3,000 nm) with CFTs + 3 X external fuel tanks
E
Ferry – 3,570 miles (3,100 nm) with CFTs + drop tanks
With Drop Tanks only – 2,765 miles (2,400 nm)
Normal Combat Radius – 790 miles (685 nm)
Maximum Combat Radius – 1,150 miles (1,000 nm)

Speeds
C/D – 1,875 mph (Mach 2.5 +)
E
Maximum Level Flight Clean @ High Altitude – 1,650 mph (2,655 km/h)
Cruise @ Optimum Altitude – 570 mph (917 km/h)
Ceiling
C/D – 65,000 ft (19,697 m)
E – 60,000 ft (18,290 m)

Armament
C
1 X M-61A1 20mm multi-barrel internal gun, 940 rounds of ammunition
4 X AIM-9L/M Sidewinders
And
4 X AIM-7F/M Sparrow missiles
Or
Missile Combination - AIM-9L/M, AIM-7-F/M and AIM-120
E
1 X M-61A1 20mm multi-barrel internal gun, 512 rounds of ammunition
4 X AIM-9L/M Sidewinder on the under-wing stations
And
4 X AIM-7F/M Sparrow missiles conformal fuel tank
Maximum 8 X AIM-120 AMRAAM missiles
12 X CBU-52 (6 with wing tanks)
12 X CBU-59 (6 with wing tanks)
12 X CBU-71 (6 with wing tanks)
12 X CBU-87 (6 with wing tanks)
12 X CBU-89 (6 with wing tanks)
20 X MK-20 (6 with wing tanks)

Hobby Master 1/72 Air Power Series

HA4522
F-15E STEEL CITY EAGLE
92-0364, 494th FS, Lakenheath, 22th Feb. 2019
"Mi Amigo 75th Anniversary flypast "

---
In 1967 the U.S. became aware of the Soviet MiG-25 Foxbat. This made it necessary to develop
a new aircraft to counter the MiG-25. The USAF rejected the USN F-14 Tomcat and issued its
own requirements. The solution came in the form of the McDonnell-Douglas (now Boeing) F-15
Eagle. The F-15A made its inaugural flight in July 1972 and in January 1976 the first Eagle
entered service. The "E" entered service in 1989. The F-15 was the first dedicated USAF air
superiority fighter since the F-86 Sabre.


On February 22, 1944 a severely damaged B-17 "Mi Amigo" tried to land on a park in Sheffield
but the pilot noticed children playing there so he crashed into a treed hillside killing all 10 crew.
One of those children, Tony Foulds eventually related the story to the BBC and a 10 aircraft "Mi
Amigo 75th Anniversary Flypast" took place on Friday 22nd February 2019. Four F-15E from
494th FS bore names of the 10 U.S. Airmen and executed a missing man formation.

1/72 scale pre-finished.

Die-cast metal with a minimum of plastic.

Professionally painted.

All markings are pad applied for superb results.

Crew figure.

Comes with display stand.

Landing gear can be displayed up or down.

Extremely sought after by collectors.

---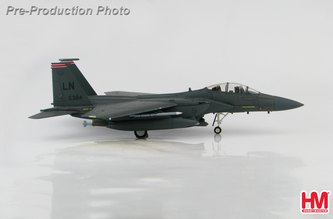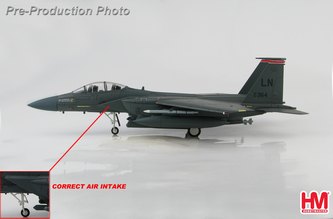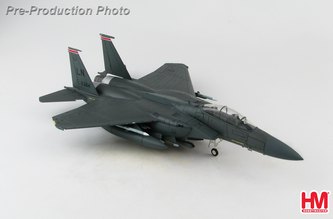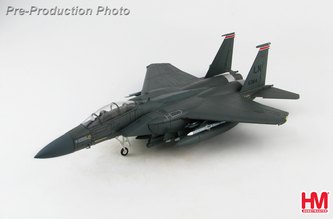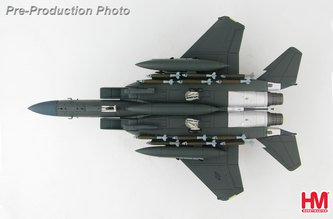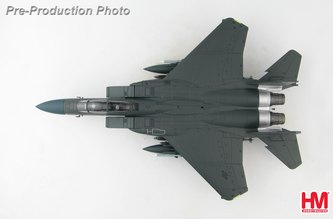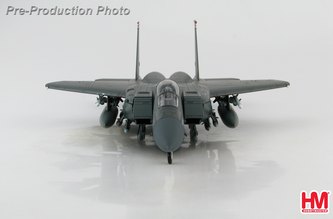 ---
This new site is being updated regularly and it will be much improved before too long. Please be patient, give it time, and check back regularly. Opportunities for community collaboration are in the works for a little further down the road.
---
This is not a retail site. You cannot buy models here.
Thanks to Dauntless Aviation for providing web hosting and other support for this site. Real or sim pilot? Check out their stuff!
This is not an official site of any manufacturer or retailer. Information provided here may be incomplete or in error. Use at your own risk.
This is not an "advice" site. Please do not contact us asking about these models. Please contact a manufacturer or retailer with your questions or comments.
Please update your links!

Update HomePage links from the HMC website to either www.MetalWings.com or, preferably, www.dauntless-soft.com/MetalWings.
Update your page links to this page from HMCwebsite/HA4522.html to http://www.dauntless-soft.com/MetalWings/HA4522.asp

This site will be modified over time. We are well aware of its many issues, including missing images and bad formatting.
© 2022 Dauntless Aviation • 4950C York Road 110, Buckingham, PA, 18912, USA • Contact Us • Privacy Policy