BODY {font-family:"Arial"; font-size:18;margin:0px;padding:0px;text-align:center;min-width:780px;} #centerwrapper {text-align:left;width:780px;margin-left:auto;margin-right:auto;}
Hobby Master 1/72 Air Power Series

HA2811B
Lockheed F-22A Raptor
BuNo. 91-001, "Spirit of America"
(With underwing 4 x AIM-120)

The USAF developed a requirement for a new air superiority fighter to replace the F-15 Eagle.
Two proposals were submitted with the Lockheed Martin F-22 Raptor being selected as the new
Advanced Tactical Fighter (ATF). The aircraft is constructed using 39% titanium, 24% composite
material, 16% aluminum and 1% thermoplastic by weight. All these components contribute to the
F-22 being a light weight, extremely maneuverable, extremely fast aircraft that uses stealth
technology. The F-22 is also capable of ground attack, electronic warfare and signals intelligence.


In 1986 Northrop and Lockheed Martin were each awarded a demonstration and concept
validation contract. The Lockheed YF-22 won over Northrop's YF-23. The YF-22 first flew on
September 29, 1990 with the flight of the first production F-22 "Raptor" taking place on
September 7, 1997. This aircraft was number 91-4001 with a serial of 91-001 and named "Spirit
of America". In October 1997 91-001 went to Edwards AFB in California for testing. What started
with 91-001 will end in 2013 when the last planned 438th F-22 is delivered.


Lockheed Martin F-22 Raptor specifications

First flight - September 7, 1997

Planned Production - 750 aircraft initial program objective

Altered plan in 1990 - 648 aircraft

Altered plan in 1994 - 442 aircraft

In 1997 Department of Defense report – 339 aircraft

In 2006 the Pentagon wanted -183 aircraft

2008 approval for 4 additional aircraft bringing the total to 187

Number built as of August 2009 - 145 (187 planned)

Role - Air superiority fighter

Crew – (1) pilot

Performance
Engines – (2) Pratt & Whitney F119-PW-100 engines producing 35,000 lbst of thrust
Speed - Mach 1.8 (super cruise: Mach 1.5)
G Limit - +9 G
Ceiling - 60,000 ft (18,290 m)
The F-22 and other fighters can reach this altitude, but only the F-22 can perform tactical
maneuvers at this level, which is about twice the altitude at which other jets can perform tactical
maneuvers.

Dimensions
Length - 62.08 ft (18.90 m)
Height -16.67 ft (5.08 m)
Wingspan - 44.5 ft (13.56 m)
Wing Area - 840 sq ft (78.04 sq m)
Horizontal Tail-span - 29 ft (8.84 m)

Weights
Empty Weight - 31,670 lb (14,365 kg)
Maximum Takeoff Weight - 60,000 lb (27,000 kg)

Armament
Internal
(1) 20mm Cannon
(4) AIM-9 Sidewinders (side weapon bays)
(4) AIM-120A AMRAAM (internal ventral bay)
(6) AIM-120Cs (internal ventral bay)
(6) GBU-32 JDAM PGMs (internal ventral bay)
(8) GBU-39 Small Diameter Bombs (250lbs ea)
External
(4) under-wing hard-points with a maximum of 5,000lbs (2,270kg) of mission-specific weaponry
or fuel drop-tanks.

---
Die-cast metal.
Superb detailing in 1/72 scale.
Pre-painted with pad applied markings.
Fully assembled.
Weapons
4 X under wings AIM-120
Display stand included.
Option to display model with wheels up or down.
Minimum use of plastic.
Pilot figure

---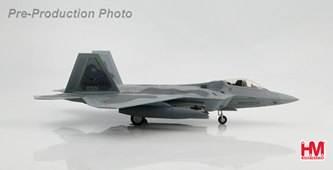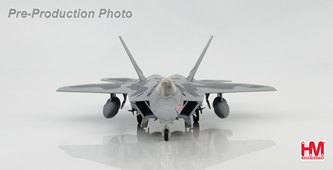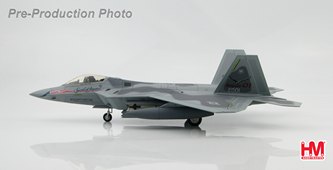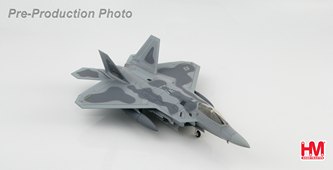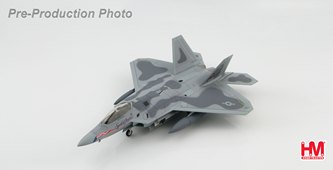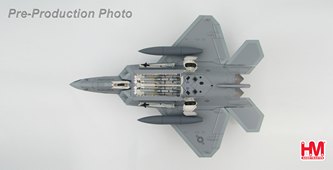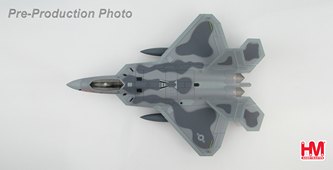 ---
This new site is being updated regularly and it will be much improved before too long. Please be patient, give it time, and check back regularly. Opportunities for community collaboration are in the works for a little further down the road.
---
This is not a retail site. You cannot buy models here.
Thanks to Dauntless Aviation for providing web hosting and other support for this site. Real or sim pilot? Check out their stuff!
This is not an official site of any manufacturer or retailer. Information provided here may be incomplete or in error. Use at your own risk.
This is not an "advice" site. Please do not contact us asking about these models. Please contact a manufacturer or retailer with your questions or comments.
Please update your links!

Update HomePage links from the HMC website to either www.MetalWings.com or, preferably, www.dauntless-soft.com/MetalWings.
Update your page links to this page from HMCwebsite/HA2811B.html to http://www.dauntless-soft.com/MetalWings/HA2811B.asp

This site will be modified over time. We are well aware of its many issues, including missing images and bad formatting.
© 2022 Dauntless Aviation • 4950C York Road 110, Buckingham, PA, 18912, USA • Contact Us • Privacy Policy