BODY {font-family:"Arial"; font-size:18;margin:0px;padding:0px;text-align:center;min-width:780px;} #centerwrapper {text-align:left;width:780px;margin-left:auto;margin-right:auto;}
Specifications for Harrier GR.5
Number Built - 41
Deployed - 1987
Crew - 1

Dimensions
Length – 46 ft 3 ins (14.12 m)
Wingspan – 30 ft 4 ins (9.25 m)
Height – 11 ft 7 ins (3.55 m)

Weight
Empty – 13,779 lbs (6,250 kg)
Maximum Take-off – 29,762 lbs (13,500 kg)

Performance
Engine – 1 X TJE Rolls-Royce Pegasus Mk. 105
Thrust – 21,760 lbs (9,870 kg)
Maximum Speed
@ Sea Level – 684 mph (1,100 km/h)
@ Altitude – (Mach 1.1)
Ferry Range – 2,377 miles (3,825 km)

Armament
2 x 25-mm ADEN cannon pods with 200 rounds
9,200 lb (4,173 kg) of external stores including:
16 x Mk 82 free fall bombs
6 x Mk 83 free fall bombs
6 x BL-755 cluster bombs
4 x Maverick air-to-surface missiles
10 x rocket pods

Hobby Master 1/72 Air Power Series

HA2615
GR.5 Harrier ZD327 "AJ"
RAF 3 Sqn., Gutersloh, Germany 1990

Die-cast metal.
Superb detailing in 1/72 scale.
Pre-painted with pad applied markings.
Fully assembled.
Weapons that are not permanently attached.
Comes with crew figure.
Display stand included.
Option to display model with wheels up or down.
Minimum use of plastic.

---
---
The GR.7 series is part of the second generation of Harriers and replaced the older GR.
3. This variant is quite similar to the American designed AV-8B but is built under license
and equipped with RAF specific navigation and defense systems and added under-wing
pylons. The GR.7 is capable of carrying twice the load of the GR.3 or the same load
twice as far. The GR.7 first flew in 1989 and entered service in 1990. Of the 96 GR.7
Harriers belonging to the RAF 62 originally were GR.5s that were upgraded to GR.7s.



RAF No. 3 Squadron was formed on May 13, 1912 and was the first RAF squadron to
receive the new flying machines. The squadron's first encounter with the Harrier was in
early 1970 when they received GR.1's. In 1977 No.3 Squadron were stationed at RAF
Station Gütersloh, West Germany where they acquired the GR. 3 and the GR. 5. In 1992
No. 3 Squadron moved to RAF Station Laarburch, on the German border with the
Netherlands, now flying the GR.7 Harrier. In 1997 they returned to RAF Station
Cottesmore.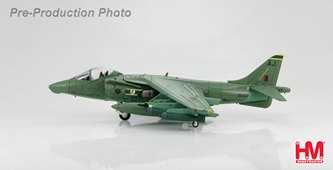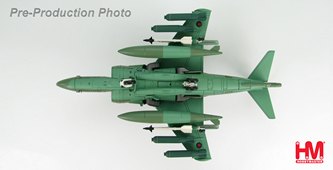 ---
This new site is being updated regularly and it will be much improved before too long. Please be patient, give it time, and check back regularly. Opportunities for community collaboration are in the works for a little further down the road.
---
This is not a retail site. You cannot buy models here.
Thanks to Dauntless Aviation for providing web hosting and other support for this site. Real or sim pilot? Check out their stuff!
This is not an official site of any manufacturer or retailer. Information provided here may be incomplete or in error. Use at your own risk.
This is not an "advice" site. Please do not contact us asking about these models. Please contact a manufacturer or retailer with your questions or comments.
Please update your links!

Update HomePage links from the HMC website to either www.MetalWings.com or, preferably, www.dauntless-soft.com/MetalWings.
Update your page links to this page from HMCwebsite/HA2615.html to http://www.dauntless-soft.com/MetalWings/HA2615.asp

This site will be modified over time. We are well aware of its many issues, including missing images and bad formatting.
© 2022 Dauntless Aviation • 4950C York Road 110, Buckingham, PA, 18912, USA • Contact Us • Privacy Policy