BODY {font-family:"Arial"; font-size:18;margin:0px;padding:0px;text-align:center;min-width:779px;} #centerwrapper {text-align:left;width:779px;margin-left:auto;margin-right:auto;}
Hobby Master 1/72 Air Power Series

HA2612
Harrier GR.9
800 NAS disbandment scheme "ZD351"

Die-cast metal.
Superb detailing in 1/72 scale.
Pre-painted with pad applied markings.
Fully assembled.
Weapons that are not permanently attached.
Comes with crew figure.
Display stand included.
Option to display model with wheels up or down.
Minimum use of plastic.

---
---
search engine or a link from another
site please click on the home button
once during your visit so my visitor
counter will add your visit.
Thank you.


The GR.9 Harrier came into service in October 2006 and is a very updated improvement on
the GR.7. The GR.9 is capable of a wider range of advanced precision weaponry, new
communications along with upgraded airframes.

GR.9 specifications
Aircrew - 1
Engine – 1 X RR Pegasus 105 or 107 turbofan producing 96.7 kN (21,750 lbs) of thrust
Maximum Speed - 574kts (660 mph)
Maximum Altitude – 13,110 m (43,000 ft)
Length - 14.36m (47.11 ft)
Wingspan - 9.25m (30.35 ft)
Armament - AIM-9 Sidewinder, Maverick, Paveway II, Paveway III, Enhanced Paveway,
General Purpose Bombs, CRV-7

The British Joint Force Harriers are due for dress down (retirement) on December 16, 2010.
This Harrier wears a special paint scheme marking the years this type of aircraft has been
with 800 NAS RAF Cottesmore Squadron

800NAS RAF Cottesmore
ZD327/08A Harrier GR.9
ZD329/10 Harrier GR.9
ZD330/11 Harrier GR.9
ZD347/14 Harrier GR.9A
ZD348/15 Harrier GR.9A
ZD351 Harrier GR.9
ZD375/23 Harrier GR.9
ZD406 Harrier GR.9
ZD435/47 Harrier GR.9
ZD436/48 Harrier GR.9A
ZD438/50 Harrier GR.9
ZD467/57A Harrier GR.9A
ZD470/60 Harrier GR.9
ZG504/75A Harrier GR.9A
ZG506/77 Harrier GR.9A
ZG508/79 Harrier GR.9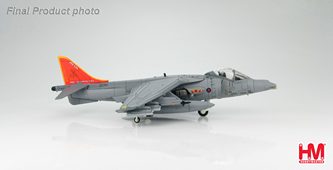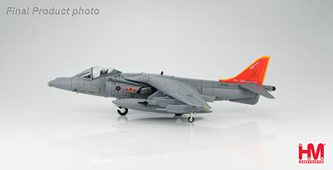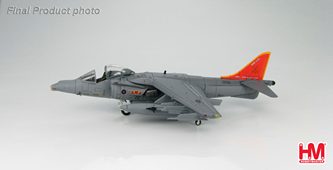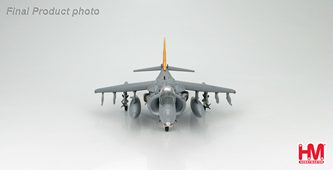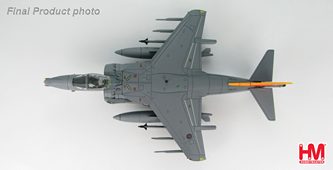 ---
This new site is being updated regularly and it will be much improved before too long. Please be patient, give it time, and check back regularly. Opportunities for community collaboration are in the works for a little further down the road.
---
This is not a retail site. You cannot buy models here.
Thanks to Dauntless Aviation for providing web hosting and other support for this site. Real or sim pilot? Check out their stuff!
This is not an official site of any manufacturer or retailer. Information provided here may be incomplete or in error. Use at your own risk.
This is not an "advice" site. Please do not contact us asking about these models. Please contact a manufacturer or retailer with your questions or comments.
Please update your links!

Update HomePage links from the HMC website to either www.MetalWings.com or, preferably, www.dauntless-soft.com/MetalWings.
Update your page links to this page from HMCwebsite/HA2612.html to http://www.dauntless-soft.com/MetalWings/HA2612.asp

This site will be modified over time. We are well aware of its many issues, including missing images and bad formatting.
© 2023 Dauntless Aviation • 4950C York Road 110, Buckingham, PA, 18912, USA • Contact Us • Privacy Policy