Specifications for the AV-8B+ (Harrier II Plus)

Developed by - Boeing, BAE Systems, and Rolls Royce

Operators – USMC, Italian Navy, Spanish Navy

Crew – (1) pilot

Performance
Powerplant – (1) Rolls-Royce Pegasus 11-61 (F402-RR-408) (Mk 105) vectored-thrust
turbofan engine,
23,500 lbf (105 kN)
Maximum speed @ sea level - .89 Mach (662 mph) (1,070 km/h)
Range – 1,200 nm (1,400 mi) (2,200 km)
Combat radius - 300 nmi (556 km)
Ferry range - 1,800 nmi (3,300 km)
Rate of climb - 14,700 ft/min (4,485 m/min)

Dimensions
Length - 46 ft 4 in (14.12 m)
Wingspan - 30 ft 4 in (9.25 m)
Height - 11 ft 8 in (3.55 m)
Wing area - 243.4 ft² (22.61 m²)

Weight
Empty - 13,968 lb (6,340 kg)
Loaded - 22,950 lb (10,410 kg)
Max takeoff –
Rolling / 31,000 lb (14,100 kg)
Vertical / 20,755 lb (9,415 kg)


Armament
Guns – (1) X GAU-12U "Equalizer" 25 mm (0.98 in) cannon with 300 rounds of
ammunition.
Hardpoints – (7) capable of carrying up to 13,200 lb (STOVL) of ordnance such as iron
bombs, cluster bombs, napalm canisters, laser-guided bombs, AGM-65 Maverick or
AGM-84 Harpoon missiles, Sea Eagle missiles, a LITENING targeting pod, up to (4) AIM-
9 Sidewinder or similar-sized infrared-guided missiles, up to (4) AIM-120 AMRAAM
missiles, as well as new "Smart Weapons" such as JDAM (Joint Direct Attack Munition).

Avionics
Raytheon APG-65 pulse Doppler radar

Hobby Master 1/72 Air Power Series

HA2602
AV-8B Harrier II
VMA-311 (Tomcats)

Die-cast metal.
Superb detailing in 1/72 scale.
Pre-painted with pad applied markings.
Fully assembled.
Weapons that are not permanently attached.
Comes with crew figure.
Display stand included.
Option to display model with wheels up or down.
Minimum use of plastic.

---
---
The AV-8B II + is the second generation of Harriers. Using its VSTOL (Vertical and Short
Take Off Landing) abilities the Harrier is capable of using almost any surface to attack
and destroy air or ground targets. Armed with conventional or specific weapons the AV-
8B II + can be used in offensive or defensive roles. Now with air-borne radar the AV-8B II
+ can deliver its ordnance day or night. The AV-8B II + can be air refueled allowing it to
be deployed for extended periods.


VMA-311 was formed on December 1, 1942 and took the name "Tomcats". The
squadron took part in WWII, Korea , Vietnam and all the actions in the Persian Gulf area
since "Operation Desert Shield" in 1990. In March 2003 the "Tomcats" flew their first
sortie as part of "Operation Iraqi Freedom". VMA-311 was credited with flying over 550
sorties and dropping 77 tons of precision ordnance. The AV-8B II Harriers operated from
the USS Bon Homme Richard and the USS Tarawa and were responsible for eliminating
132 Iraqi targets.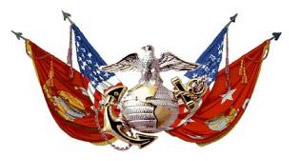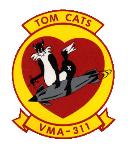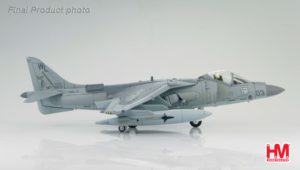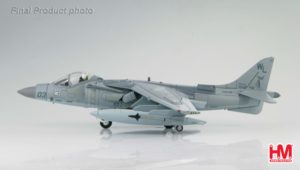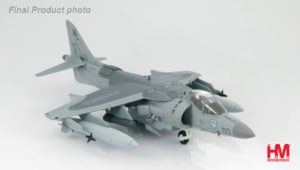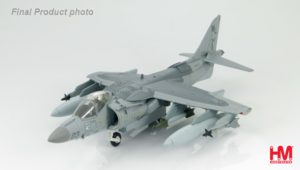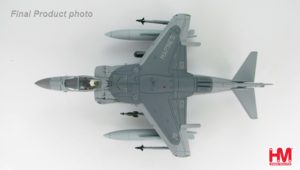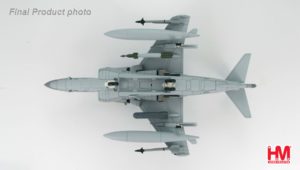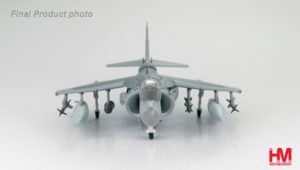 ---
This new site is being updated regularly and it will be much improved before too long. Please be patient, give it time, and check back regularly. Opportunities for community collaboration are in the works for a little further down the road.
---
This is not a retail site. You cannot buy models here.
Thanks to Dauntless Aviation for providing web hosting and other support for this site. Real or sim pilot? Check out their stuff!
This is not an official site of any manufacturer or retailer. Information provided here may be incomplete or in error. Use at your own risk.
This is not an "advice" site. Please do not contact us asking about these models. Please contact a manufacturer or retailer with your questions or comments.
Please update your links!

Update HomePage links from the HMC website to either www.MetalWings.com or, preferably, www.dauntless-soft.com/MetalWings.
Update your page links to this page from HMCwebsite/HA2602.html to http://www.dauntless-soft.com/MetalWings/HA2602.asp

This site will be modified over time. We are well aware of its many issues, including missing images and bad formatting.
© 2022 Dauntless Aviation • 4950C York Road 110, Buckingham, PA, 18912, USA • Contact Us • Privacy Policy