BODY {font-family:"Arial"; font-size:18;margin:0px;padding:0px;text-align:center;min-width:779px;} #centerwrapper {text-align:left;width:779px;margin-left:auto;margin-right:auto;}
Hobby Master 1/72 Air Power Series

HA1059
Lockheed F-104DJ Starfighter
36-5017, 207 Hikotai. ACM Meet 1983

The Lockheed F-104J was the Japanese Starfighter with the "J" standing for Japan. The
first F-104Js were just re-assembled "G" versions and first flew in March 8, 1962.
Because the Japanese constitution forbid offensive weapons the F-104J was set up
purely as an interceptor. The Japanese referred to the Starfighter as "Eikou (Glory) while
other countries called it the "Widow Maker". Instead of a 20mm cannon the early variants
had an additional fuel tank and could carry four Sidewinder missiles or drop tanks but no
bombs.

The Japanese ACM Meets (Air Combat Maneuvering) were meant to improve air crew
knowledge and hone their skills. These ACM Meets first took place in 1979 and lasted
until 1984. ACM 5 took place in late 1983 and one of the 3 F-104s representing 207
Hikotai was F-104DJ 36-5017. The 207th Hikotai, 7th Kokudan, was based at Hyakuri
AB before being transferred to Naha AB in 1972. The last F-104J was retired by the
207th Hikotai in March 1986 with 36-5017 being one of 5 F-104DJs transferred to the
RoCAF.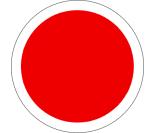 Japan Air Self
Defense Force
aircraft Insignia

True 1/72 scale
Professionally painted
Great attention to detail
All markings are Tampoed (pad applied)
Option to display the model on a stand that is provided
Model can be shown with the landing gear in the down or up positions
Optional armament has been provided
Canopy opens
Extremely heavy metal with a minimum of plastic
Highly collectable

---
Specifications F-104J

F-104DJ is the dual-control variant


Engine:

1 x 15,600-lb thrust J79-IHI-11A Japanese-built GE J79-GE-11A afterburning turbojet.


Weight:

Empty - 13,900 lbs.
Max Takeoff - 29,303 lbs.


Dimensions:

Wing Span - 21ft 9in.
Length - 54ft 8in.
Height - 13ft. 5in.


Performance:

Maximum speed at 50, 000 ft. – 1,145 mph (Mach 2.2).
Service ceiling - 50,000ft.
Rate of climb - 48,000 ft./min.
Range - 1,080 miles.


Armament:

1 x 20mm six-barrel cannon only on the later versions, early versions were without it
and replaced by a fuel tank.
2 x wingtip mounted Sidewinder air-to-air missiles.
2 x rack-mounted air-to-air Sidewinder missiles on the fuselage forward-centerline.
Provisions for wingtip mounted fuel tanks and optional fuel drop tanks under the wings

---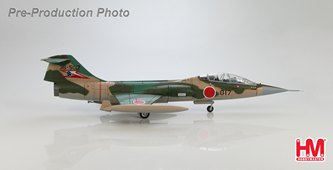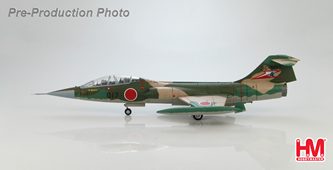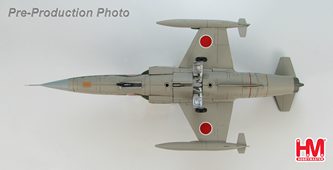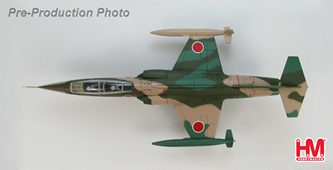 ---
This new site is being updated regularly and it will be much improved before too long. Please be patient, give it time, and check back regularly. Opportunities for community collaboration are in the works for a little further down the road.
---
This is not a retail site. You cannot buy models here.
Thanks to Dauntless Aviation for providing web hosting and other support for this site. Real or sim pilot? Check out their stuff!
This is not an official site of any manufacturer or retailer. Information provided here may be incomplete or in error. Use at your own risk.
This is not an "advice" site. Please do not contact us asking about these models. Please contact a manufacturer or retailer with your questions or comments.
Please update your links!

Update HomePage links from the HMC website to either www.MetalWings.com or, preferably, www.dauntless-soft.com/MetalWings.
Update your page links to this page from HMCwebsite/HA1059.html to http://www.dauntless-soft.com/MetalWings/HA1059.asp

This site will be modified over time. We are well aware of its many issues, including missing images and bad formatting.
© 2023 Dauntless Aviation • 4950C York Road 110, Buckingham, PA, 18912, USA • Contact Us • Privacy Policy