BODY {font-family:"Arial"; font-size:18;margin:0px;padding:0px;text-align:center;min-width:779px;} #centerwrapper {text-align:left;width:779px;margin-left:auto;margin-right:auto;}
Hobby Master 1/72 Air Power Series

HA1057
Lockheed F-104D Starfighter 57-1320
198th TFS, Puerto Rico ANG, 1974

Die-cast metal.
Superb detailing in 1/72 scale.
Pilot figure
Pad applied markings.
Fully assembled.
Display stand included.
Option to display model with wheels up or down.
Minimum use of plastic.
Very collectable

The extreme shape of the Starfighter earned it the first nickname of "The Missile With a
Man in it" and some USAF pilots also called it "Zipper" or "Zipper 104" because of it's
tremendous speed. After it proved to be challenging to fly, with high fatal accident rates,
particularly in German service the plane was given many more nicknames because of its
high speed and ability to occassionally fly itself into the ground. In Germany they referred
to it as Witwenmacher ("widowmaker"), fliegender Sarg ("flying coffin") or Erdnagel
("ground nail", the official military term for a tent peg). Others were, Pakistan Badmash
"Hooligan", Italy because of it's spiked nose Spillone "Hatpin" and bara volante "Flying
Coffin", Canada "Lawn Dart".
Primarily powered by a single 15 800 lb thrust General Electric J79-GE11A turbojet
engine, equipped with afterburner, it was capable of high speeds (just under 1300 mph)
and high rates of climb. On December 14, 1959, an F-104C set a world altitude record of
103,395 ft (31.5 km). The Starfighter was the first aircraft to hold simultaneous official
world records for speed, altitude, and time-to-climb.


In 1967 Lockheed F-104Ds and Cs were transferred to the Puerto Rico ANG at Munez ANGB. F-
104D 57-1320 was assigned to the 156th TFW of the PRANG. The PRANG operated the F-104s
until July 1975 when they were replaced with LTV A-7Ds. Most of these F-104s went to AMARC
at Davis Monthan AFB but F-104D 57-1320 found its way to the Six Flags amusement park in
Jackson New Jersey.

Specifications for the F-104D


Designation - originally a super-sonic interceptor but adapted for low level strike and
reconnaissance

Crew: 1 x pilot - "D" variant 2 crew

Dimensions
Wingspan - 21' 11"
Length - 54' 9"
Height - 13' 6"
Wing area - 196.1 sq. ft

Powerplant
1 x Orenda Engines J79-OEL-7, 10,000 lb. s.t. dry / 15,800 lb. s.t. with after burner

Performance
Maximum speed
Dash – 1,550 mph (mach 2.35) @ 40,000'
915 mph (mach 1.2) @ sea-level
Climb to 30,000' – 1.5 minutes
Service ceiling - 50,000 ft (12,000 m)
Range - 1,630 mi (1,420 nm, 2,630 km)

Weights
Empty - 13,909 lbs.
Clean - 21,005 lbs.
Maximum take-off - 28,891 lbs

External stores
5 hard points – 1 x under the fuselage, 1 x under each wing, 1 x at each wing tip

Armament
External bombs and missiles such as:
Napalm bomb
Cluster bomb
BL755 cluster bomb
1 x 19 rocket rocket-pod
Mk. 82 bomb
MN1A practice bomb dispenser
1 x M61A1 Vulcan
1 x 20mm cannon added to later versions.

---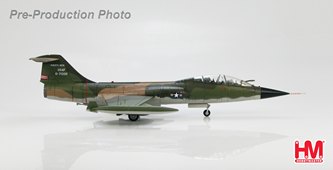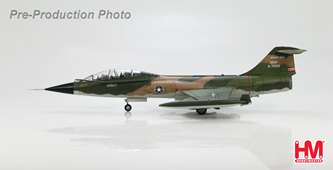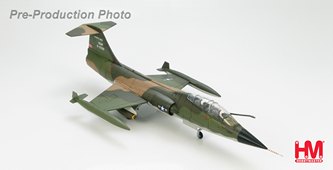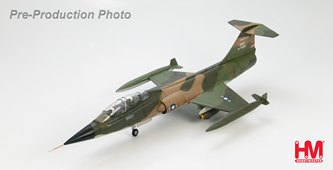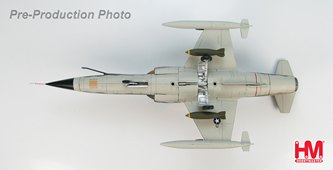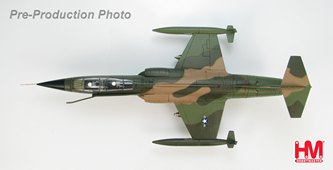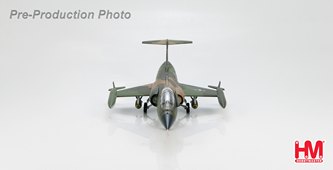 ---
This new site is being updated regularly and it will be much improved before too long. Please be patient, give it time, and check back regularly. Opportunities for community collaboration are in the works for a little further down the road.
---
This is not a retail site. You cannot buy models here.
Thanks to Dauntless Aviation for providing web hosting and other support for this site. Real or sim pilot? Check out their stuff!
This is not an official site of any manufacturer or retailer. Information provided here may be incomplete or in error. Use at your own risk.
This is not an "advice" site. Please do not contact us asking about these models. Please contact a manufacturer or retailer with your questions or comments.
Please update your links!

Update HomePage links from the HMC website to either www.MetalWings.com or, preferably, www.dauntless-soft.com/MetalWings.
Update your page links to this page from HMCwebsite/HA1057.html to http://www.dauntless-soft.com/MetalWings/HA1057.asp

This site will be modified over time. We are well aware of its many issues, including missing images and bad formatting.
© 2023 Dauntless Aviation • 4950C York Road 110, Buckingham, PA, 18912, USA • Contact Us • Privacy Policy