BODY {font-family:"Arial"; font-size:18;margin:0px;padding:0px;text-align:center;min-width:779px;} #centerwrapper {text-align:left;width:779px;margin-left:auto;margin-right:auto;}
F-104C SPECIFICATIONS

Manufacturer – Lockheed

Number Produced – 77

Role – Fighter/Bomber

Crew - 1

Dimensions
Span: 21 ft. 11 in.
Length: 54 ft. 10 in.
Height: 13 ft. 6 in.

Weight:
Empty – 12,526
Take-off Clean – 19,566 lbs
Take-off Maximum – 27,537 lbs

Performance
Engine – J79-GE-7
Thrust - 15,800 lbs. w/afterburner
Take-off Speed – 177 kt (204 mph)
Landing Speed – 143 kt (165 mph)
Maximum Speed – Mach 2.2
Range – 1,642 n.m.
Maximum Altitude – 59,000 ft
Combat Configuration – Optional Tip Tanks

Armament
External Hardpoints – 5
Gun – 1 X M-61 20mm Cannon
Missiles – 2 X Air-to-air Missiles
Bombs – 1 X Nuclear or Conventional Bombs

Hobby Master 1/72 Air Power Series

HA1038
Lockheed F-104C
56--0886, 479th TFW, Da Nang AB, 1965

---
The Lockheed F-104C came about as the result of Tactical Air Command (TAC) decision that the
F-104A wasn't a capable supersonic tactical strike fighter. The F-104C was equipped with an in-
flight refueling probe to extend its range and was capable of delivering a tactical nuclear weapon.
Put into service during the Vietnam War the USAF realized the F-104C wasn't the aircraft for
Vietnam and was replaced with the McDonnell Douglas F-4 Phantom II. The surviving F-104Cs
were transferred to the 198th TFS of the Puerto Rico Air National Guard.


Lockheed F-104C Starfighter 56-0886 was produced in 1956 c/n 383-1174. The 479th TFW sent
28 F-104Cs to Da Nang Air Base in April 1965. The 476th TFS from April 19, 1965 until July 11,
1965 the 436th TFS, which included 56-0886 "Fannie", operated from July 12, 1965 until October
12, 1965. When the 435th TFS took over until December 20, 1965 F-104C 56-0886 was
transferred to them. These aircraft performed combat air patrols protecting EC-121 Warning Stars
and later air-to-ground missions. The 479th TFW flew 506 missions accumulating 1,707 flying
hours.

True 1/72 scale

Comes with wing tip AIM-9 missiles

Professionally painted unique scheme

Great attention to detail

All markings are Tampoed (pad applied)

Option to display the model on a stand that is provided

Model can be shown with the landing gear in the down or up positions

Canopy can be displayed open or closed

Extremely heavy metal with a minimum of plastic

Highly collectable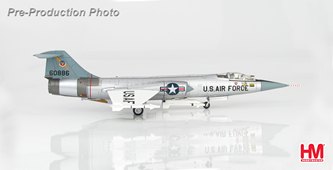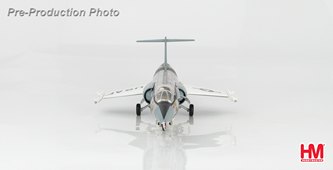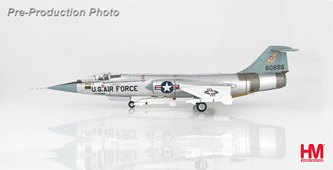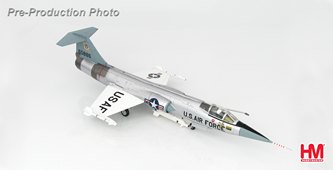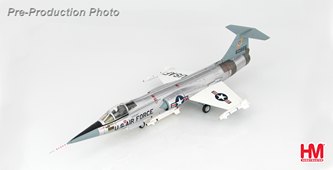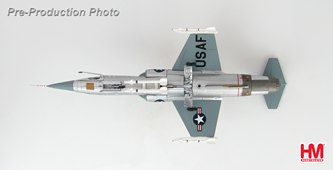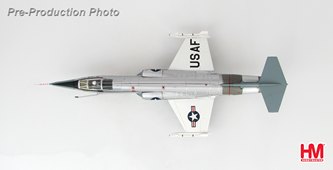 ---
This new site is being updated regularly and it will be much improved before too long. Please be patient, give it time, and check back regularly. Opportunities for community collaboration are in the works for a little further down the road.
---
This is not a retail site. You cannot buy models here.
Thanks to Dauntless Aviation for providing web hosting and other support for this site. Real or sim pilot? Check out their stuff!
This is not an official site of any manufacturer or retailer. Information provided here may be incomplete or in error. Use at your own risk.
This is not an "advice" site. Please do not contact us asking about these models. Please contact a manufacturer or retailer with your questions or comments.
Please update your links!

Update HomePage links from the HMC website to either www.MetalWings.com or, preferably, www.dauntless-soft.com/MetalWings.
Update your page links to this page from HMCwebsite/HA1038.html to http://www.dauntless-soft.com/MetalWings/HA1038.asp

This site will be modified over time. We are well aware of its many issues, including missing images and bad formatting.
© 2023 Dauntless Aviation • 4950C York Road 110, Buckingham, PA, 18912, USA • Contact Us • Privacy Policy