BODY {font-family:"Arial"; font-size:18;margin:0px;padding:0px;text-align:center;min-width:779px;} #centerwrapper {text-align:left;width:779px;margin-left:auto;margin-right:auto;}
Hobby Master 1/72 Air Power Series

HA1032
Lockheed TF-104G Starfighter
28+35, Luftwaffe, mid 1980s

---
Professionally painted unique scheme
Great attention to detail
Most markings are Tampoed (pad applied)
Option to display the model on a stand that is provided
Model can be shown with the landing gear in the down or up positions
Canopy can be displayed open or closed
Extremely heavy metal with a minimum of plastic
Highly collectable

---
The F-104 Starfighter was a revolutionary design with short razor-sharp wings. It was
the first aircraft to be able to maintain Mach 2 not just in short bursts. The Starfighter
shattered speed and rate of climb records that still are impressive today. This extremely
high speed earned the plane the nickname "The Missile With A Man In It". Because of
financial considerations 15 or more countries purchased the F-104. The Starfighter flew
with the USAF in 1958 and the last airplane was decommissioned in Italy in 2004.

Lockheed TF-104G Starfighter was c/n 583F-5965 built by Messerschmitt with the first
flight taking place on November 20, 1967. The aircraft had a Norm 62 camo paint
scheme with code 28+35 went to WaSLw 10 (training school) in January 1968 before
going to JaboG 31, on December 8, 1977, back to the school then transferred to JaboG
32 wearing a Lizard camo and then JaboG 34. Next stop was LVR 1 "F-104 Kommando"
(Air Force Supply Regiment) in 1987 and removed from service October 1988 and in
December 1988 sold the Greece.

F-104G specifications


Manufacturer: Lockheed

Designation: F-104G Starfighter

Crew: 1 (pilot)

Length: 16.66 M.
Height: 4.09 M
Wingspan: 6.63 M
Wing Area: 18.22 Sq. M

Empty weight: 6345 Kg.
Gross weight: 9362 Kg.
Max. weight: 13171 Kg

Range: 1754 Km
Cruise Speed : 821 km/h
Max. Speed : 1844 km/h
Climb : 14,630 M/min
Ceiling: 15240 M.
Wing loading: 563kg/m2

Powerplant: 1 General Electric J-79-GE-11A (A/B 7,067 Kg.)
Thrust: 4356 Kg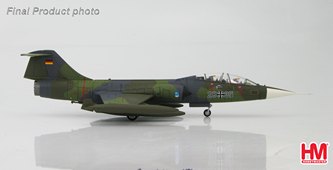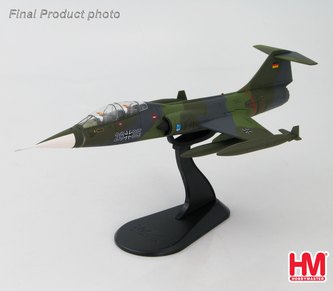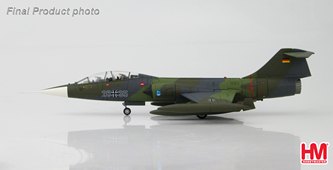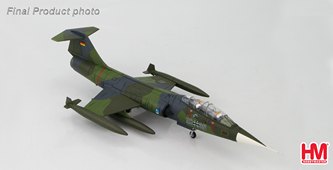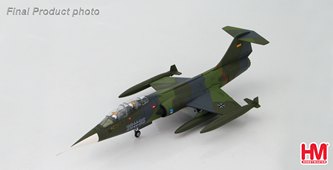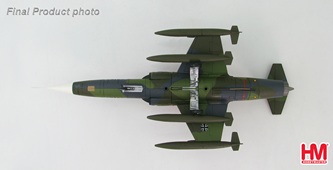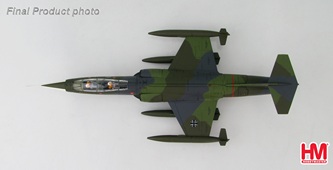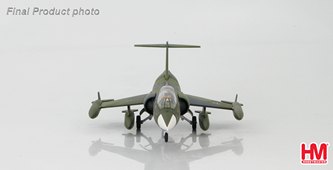 ---
This new site is being updated regularly and it will be much improved before too long. Please be patient, give it time, and check back regularly. Opportunities for community collaboration are in the works for a little further down the road.
---
This is not a retail site. You cannot buy models here.
Thanks to Dauntless Aviation for providing web hosting and other support for this site. Real or sim pilot? Check out their stuff!
This is not an official site of any manufacturer or retailer. Information provided here may be incomplete or in error. Use at your own risk.
This is not an "advice" site. Please do not contact us asking about these models. Please contact a manufacturer or retailer with your questions or comments.
Please update your links!

Update HomePage links from the HMC website to either www.MetalWings.com or, preferably, www.dauntless-soft.com/MetalWings.
Update your page links to this page from HMCwebsite/HA1032.html to http://www.dauntless-soft.com/MetalWings/HA1032.asp

This site will be modified over time. We are well aware of its many issues, including missing images and bad formatting.
© 2023 Dauntless Aviation • 4950C York Road 110, Buckingham, PA, 18912, USA • Contact Us • Privacy Policy