BODY {font-family:"Arial"; font-size:18;margin:0px;padding:0px;text-align:center;min-width:779px;} #centerwrapper {text-align:left;width:779px;margin-left:auto;margin-right:auto;}
Hobby Master 1/72 Air Power Series

HA1027
Lockheed F-104C Starfighter
#0-60914 "Snoopy Sniper"
435th TFS, USAF, Udorn 1967-68

F-104 SPECIFICATIONS


Span: 21 ft. 11 in.
Length: 54 ft. 10 in.
Height: 13 ft. 6 in.
Weight: 27,853 lbs. max.
Armament: One M-61 20mm cannon, two air-to-air missiles: nuclear or conventional
bombs
Engine: One General Electric J-79 of 15,800 lbs. thrust with afterburner
Crew: One
Cost: $1,471,000 (1950 & early 60's dollars)

NORMAL PERFORMANCE
Maximum speed: 1,320 mph.
cruising Speed: 575 mph.
Range: 1,250 miles
Service Ceiling: 58,000 ft.

---
From one of the most significant periods of modern U.S. history, the Vietnam War, comes the
Lockheed F-104C. Throughout their stay they flew over 5,290 sorties on bombing and escort
missions. The F-104Cs turned out not to be what the USAF needed for this war so they were
replaced by the F-4D Phantom.


F-104C b/n 0-60914 "Snoopy Sniper" was piloted by Major Herb Drisco. The aircraft belonged to
the 435 TFS and wore this nose art in 1966 and 67.
From April 20 – November 20 1965 there was a large presence of F-104s in Vietnam but was
returned to the U.S. at that time. Early on in 1966 the supersonic Mig-21 started to appear in the
skies over North Vietnam creating a large threat to U.S. aircraft. The U.S. answer to the problem
was to re-deploy the F-104s, so in June 1966 F-104Cs from the 435th TFS "Screaming Eagles"
started to arrive at Udorn RTAFB in Thailand. All the aircraft were now wearing the 3 tones SEA
(South East Asia) camouflage that soon started to be referred to as "Vietnamese Camouflage".
The SEA camouflage was one shade of tan and two shades of green on the upper surfaces to
help blend in with the landscape and jungle foliage. A light gray covered the underside so that
from the ground the aircraft would blend with the sky. It was armed with a 20mm M61A1 cannon
that was fed 725 rounds stored in the fuselage. To add to their sting the plane could carry a pair
of wingtip mounted AIM-9B Sidewinder missiles and up to 2,000lbs of external ordnance (rockets,
bombs, napalm or drop tanks) under the wings and fuselage. A later addition was the ability to put
a pair of Sidewinders under the fuselage. From June 1966 – July 1967 F-104Cs completed over
5,290 bombing and escort sorties into North Vietnam. The USAF decided to replace the 104s with
the more efficient McDonnell F-4D Phantoms so in July 1967 the replacements started. The last
F-104 left Thailand around the end of 1967 with the 435th departing in July and returning to
George AFB, California.

True 1/72 scale
Professionally painted unique scheme
Great attention to detail
All markings are Tampoed (pad applied)
Option to display the model on a stand that is provided
Model can be shown with the landing gear in the down or up positions
Canopy can be displayed open or closed
Extremely heavy metal with a minimum of plastic
Highly collectable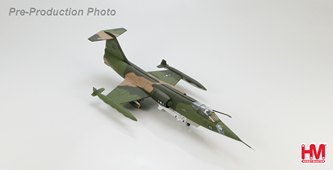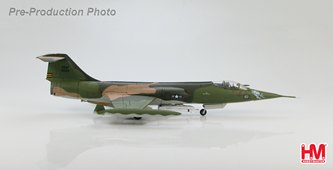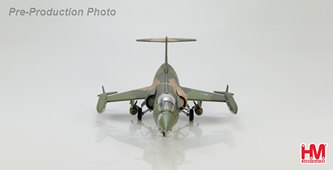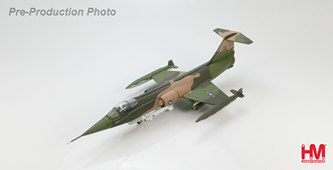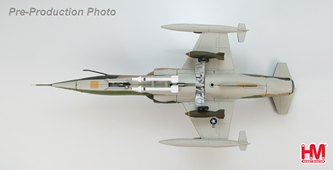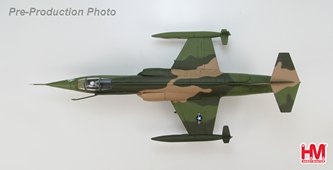 ---
This new site is being updated regularly and it will be much improved before too long. Please be patient, give it time, and check back regularly. Opportunities for community collaboration are in the works for a little further down the road.
---
This is not a retail site. You cannot buy models here.
Thanks to Dauntless Aviation for providing web hosting and other support for this site. Real or sim pilot? Check out their stuff!
This is not an official site of any manufacturer or retailer. Information provided here may be incomplete or in error. Use at your own risk.
This is not an "advice" site. Please do not contact us asking about these models. Please contact a manufacturer or retailer with your questions or comments.
Please update your links!

Update HomePage links from the HMC website to either www.MetalWings.com or, preferably, www.dauntless-soft.com/MetalWings.
Update your page links to this page from HMCwebsite/HA1027.html to http://www.dauntless-soft.com/MetalWings/HA1027.asp

This site will be modified over time. We are well aware of its many issues, including missing images and bad formatting.
© 2023 Dauntless Aviation • 4950C York Road 110, Buckingham, PA, 18912, USA • Contact Us • Privacy Policy