Hobby Master 1/72 Air Power Series

HA1013
F-104G Starfighter
"104-01"of Escadron 104, Ala 6/16,
Ejercito del Aire (Spanish Air Force), Torrejon 1965-72

Die-cast metal.
Superb detailing in 1/72 scale.
Pilot figure
Pad applied markings.
Fully assembled.
Display stand included.
Option to display model with wheels up or down.
Minimum use of plastic.
Very collectable

The F-104G was known as the Super Starfighter, with the G standing for Germany,
because they were among the first foreign orders for the Lockheed plane and they placed
the largest order. Depending on the source there were between 1,122 and 1,700 G
models built under license by 4 European companies, Canadair and Lockheed. The G
was a multi-role all weather single seat fighter-bomber with a new upward firing ejection
seat, a strengthened fuselage and wings, increased internal fuel capacity, new improved
full length flaps added to the wings leading edge for better combat maneuvering, a larger
vertical fin, a new radar system with air-air and air-ground modes, inertial navigation that
made the F-104G the first production fighter to receive this new equipment, new infrared
sight, an additional hard-point under each wing, improved weapons capability now was
4,000 lbs and beefed up landing gear and larger wheels to carry all the added weight of
the improvements. The larger gear and wheels made it necessary to create a bulge in the
fuselage to accommodate them. The G even received a new engine, though it didn't
deliver any more power it was a much more reliable engine. The G was considered the
best version of the F-104.

In 1965 the Spanish Air Force Ejercito del Aire (EdA) received 18 Canadair–built F-
104Gs through the Military Assistance Program (MAP). In EdA service the F-104s were
designated C.8 with serials running from C.8-1 to C.8-18. They were assigned to Ala 6
(Wing 6) that was later renamed Ala 16. The F-104 flew with the EdA for 7 years
accumulating 17,000 operational hours without the loss of a single Starfighter. Perhaps
this was due to the skill of the pilots or the fact that they Spanish used the F-104 to do the
role of interceptor that it was designed for. Or perhaps it was a combination of both
factors. In 1972 they were replaced by F-4C Phantoms and returned to the USAF where
they were transferred to Greece and Turkey.


Specifications for the F-104G

Performance
Engine
(1) General Electric J79-GE-11A turbojet, 10,000 lb.s.t. dry and 15,600 lb.s.t. with
afterburning.
Maximum Speed – 1,146 mph @ 50,000 feet, 1,328 mph @ 35,000 feet.
Stalling Speed - 216 mph.
Initial Climb Rate - 48,000 feet per minute.
Service Ceiling - 50,000 feet, and absolute ceiling 90,000 feet.
Normal Range – 1,080 miles. Maximum range with four drop-tanks was 1,630 miles.

Fuel
Internal fuel capacity was 897 US gallons, and maximum fuel capacity with two wingtip
tanks and two under-wing tanks was 1,784 US gallons.

Dimensions
Length - 54 ft 8 in
Height - 13 ft 6 in
Wingspan - 21 ft 9 in
Wing Area - 196.1 sq ft.

Weights
Empty - 13,996 lbs
Combat - 20,640 lbs
Maximum Takeoff - 29,038 lbs

Armament
(1) 20-mm M61A1 cannon with 725 rounds in the fuselage
Plus up to (4) AIM-9B Sidewinder infrared homing air-to-air missiles.
Up to 4,000 pounds of external ordnance (bombs, rockets, napalm, drop tanks) could be
carried on under-wing and under-fuselage hard-points.

---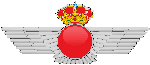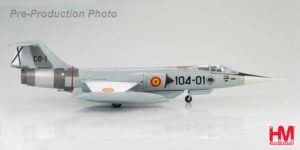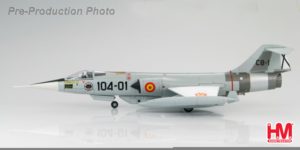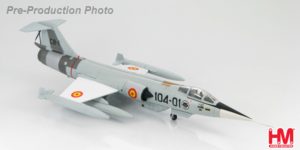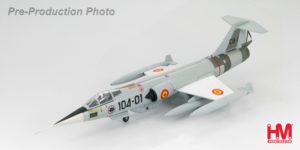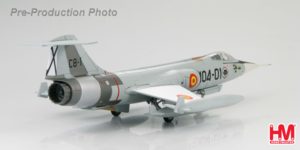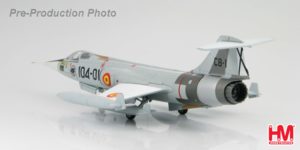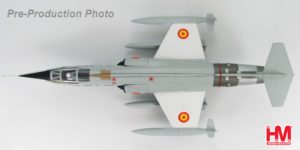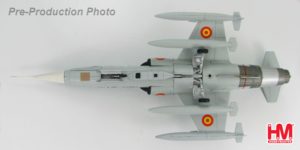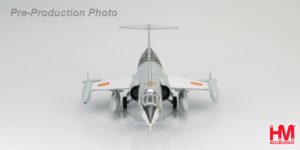 ---
This new site is being updated regularly and it will be much improved before too long. Please be patient, give it time, and check back regularly. Opportunities for community collaboration are in the works for a little further down the road.
---
This is not a retail site. You cannot buy models here.
Thanks to Dauntless Aviation for providing web hosting and other support for this site. Real or sim pilot? Check out their stuff!
This is not an official site of any manufacturer or retailer. Information provided here may be incomplete or in error. Use at your own risk.
This is not an "advice" site. Please do not contact us asking about these models. Please contact a manufacturer or retailer with your questions or comments.
Please update your links!

Update HomePage links from the HMC website to either www.MetalWings.com or, preferably, www.dauntless-soft.com/MetalWings.
Update your page links to this page from HMCwebsite/HA1013.html to http://www.dauntless-soft.com/MetalWings/HA1013.asp

This site will be modified over time. We are well aware of its many issues, including missing images and bad formatting.
© 2023 Dauntless Aviation • 4950C York Road 110, Buckingham, PA, 18912, USA • Contact Us • Privacy Policy