BODY {font-family:"Arial"; font-size:18;margin:0px;padding:0px;text-align:center;min-width:776px;} #centerwrapper {text-align:left;width:776px;margin-left:auto;margin-right:auto;}
Hobby Master 1/72 Air Power Serie
s
HA1012
German F-104G Starfighter Marinefliegergeschwader 1
Schleswig, West Germany, 1977
(complete with Kormoran Missiles)

Superb detailing in 1/72 scale.
Pilot figure
Pad applied markings.
Fully assembled.
Display stand included.
Option to display model with wheels up or down.
Minimum use of plastic.
Very collectable

The F-104 Starfighter was a revolutionary design with short razor-sharp wings. It was the
first aircraft to be able to maintain Mach 2 not just in short bursts. . The Starfighter
shattered speed and rate of climb records that still are impressive today. This extremely
high speed earned the plane the nickname "The Missile With A Man In It". Because of
financial considerations 15 or more countries purchased the F-104. The Starfighter flew
with the USAF in 1958 and the last airplane was decommissioned in Italy in 2004.
The German Air Force purchased about 1/3 of all F-104s produced, 915. The first
operational unit to receive the Starfighter was Jagdbombergeschwader 31 "Boelcke"
(JBG31), in 1961. This is the oldest flying unit in the present day Luftwaffe and named in
memory of Hauptmann Boelcke who was a WWI ace many times over. He also helped
develop many of the fighter tactics still used today. April 1982 Luftwaffe F-104Gs
surpassed 200,00 flight-hours. Because the F-104 was such a difficult aircraft to fly JGB
31 lost 18 planes killing 14 pilots.






F-104G specifications

Manufacturer: Lockheed

Designation: F-104G Starfighter

Crew: 1 (pilot)

Length: 16.66 M.
Height: 4.09 M
Wingspan: 6.63 M
Wing Area: 18.22 Sq. M

Empty weight: 6345 Kg.
Gross weight: 9362 Kg.
Max. weight: 13171 Kg

Range: 1754 Km
Cruise Speed : 821 km/h
Max. Speed : 1844 km/h
Climb : 14,630 M/min
Ceiling: 15240 M.
Wing loading: 563kg/m2

Powerplant: 1 General Electric J-79-GE-11A (A/B 7,067 Kg.)
Thrust: 4356 Kg

---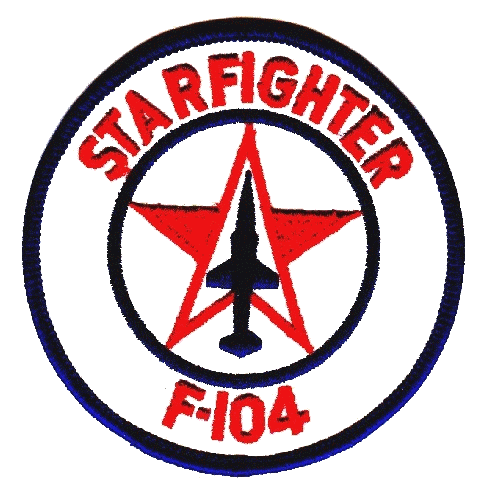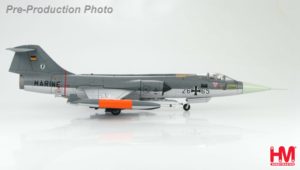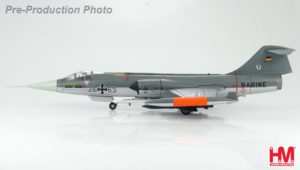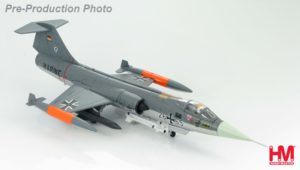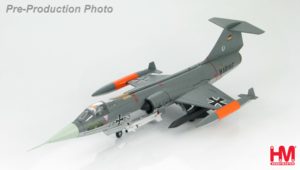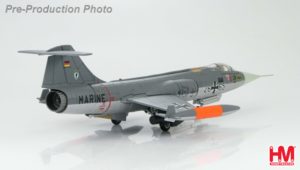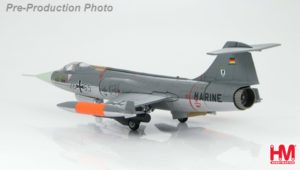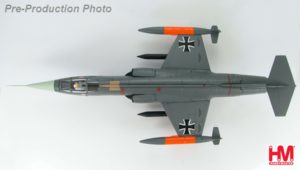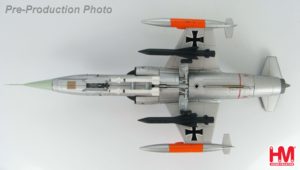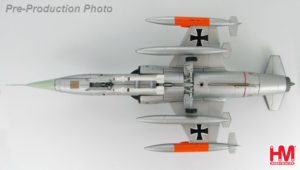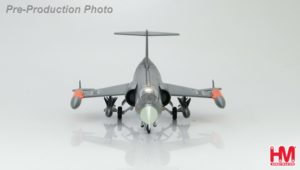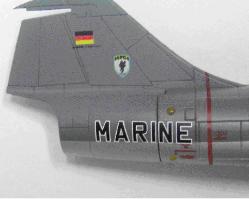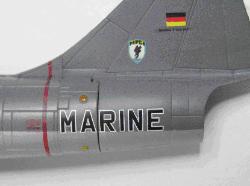 Hobby Master advises that the finished model will have the
word "MARINE" outlined in white as these two photos show.


---
This new site is being updated regularly and it will be much improved before too long. Please be patient, give it time, and check back regularly. Opportunities for community collaboration are in the works for a little further down the road.
---
This is not a retail site. You cannot buy models here.
Thanks to Dauntless Aviation for providing web hosting and other support for this site. Real or sim pilot? Check out their stuff!
This is not an official site of any manufacturer or retailer. Information provided here may be incomplete or in error. Use at your own risk.
This is not an "advice" site. Please do not contact us asking about these models. Please contact a manufacturer or retailer with your questions or comments.
Please update your links!

Update HomePage links from the HMC website to either www.MetalWings.com or, preferably, www.dauntless-soft.com/MetalWings.
Update your page links to this page from HMCwebsite/HA1012.html to http://www.dauntless-soft.com/MetalWings/HA1012.asp

This site will be modified over time. We are well aware of its many issues, including missing images and bad formatting.
© 2023 Dauntless Aviation • 4950C York Road 110, Buckingham, PA, 18912, USA • Contact Us • Privacy Policy