BODY {font-family:"Arial"; font-size:18;margin:0px;padding:0px;text-align:center;min-width:776px;} #centerwrapper {text-align:left;width:776px;margin-left:auto;margin-right:auto;}
Hobby Master 1/72 Air Power Series

HA1011
RCAF CF-104, 12701
"special chromed finish

"LIMITED EDITION"

Limited Edition of 1500 pieces worldwide.
Die-cast metal.
Superb detailing in 1/72
scale.
Pre-painted in a special chrome finish
Pilot figure
Pad applied markings.
Fully assembled.
Display stand included.
Option to display model with wheels up or down.
Vicon pod
Minimum use of plastic.
Very collectable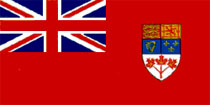 The RCAF received their first CF-104 in March 1962. Although originally designed as a
supersonic interceptor the Canadian Air Force used it primarily for low level strike and
reconnaissance. The Canadian version of the F-104 was capable of carrying a ventral
mounted Vinten Vicon pod with 4 cameras inside for reconnaissance picture taking.
On September 4, 1963 number 12900 was the 200th and final CF-104 produced and
entered service on January 10, 1964. The CF-104 retired from service in 1985 when it
was replaced by the CF-18 Hornet. Over the 25 years of active service 110 aircraft were
lost to accidents earning it nicknames like "Widow Maker" and "Lawn Dart". The RCAF
CF-104 probably had the most flying time of any variant with an average of 6,000 hours
per plane over their life time compared to the Luftwaffe's 3,000 hours.


Looking for a supersonic replacement for the RCAF aging Sabre Mk. 6 the Canadian
Government chose the Lockheed F-104. This never was the choice of the Air Force but it
was a decision based more on economics and politics. It was decided that Canadair
would build the Canadian version under contract. Originally designated CL-90 the aircraft
finally became the CF-104. In the spring of 1961 the first Canadian-built CF-104 serial
number 12701 was airlifted to Palmdale, California where on May 26, Lockheed Test Pilot
Ed Brown performed its maiden flight. The Canadair number for this Aircraft was 683a-
1001, the RCAF serial number was 12701 but in July 1970 renumbered as 104701. In
1967 aircraft 12701 was one of 5 aircraft sent to the Central Experimental and Proving
Establishment (CEPE) located at Cold Lake Alberta Canada. These aircraft were used for
evaluations and flight trials of all the aircraft modifications, systems and armaments. Why
this aircraft wasn't preserved is unknown to me but in 1985, possibly after being
cannibalized, it was struck off the inventory list and later scrapped.




Specifications for the CF-104


Manufacturer:
Canadair


Designation:
originally a super sonic interceptor but adapted for low level strike and
reconnaissance


Crew:
1 X pilot - "D" variant 2 crew


Dimensions

Wingspan: 21' 11"
Length: 54' 9"
Height: 13' 6"
Wing area: 196.1 sq. ft


Powerplant

1 X Orenda Engines J79-OEL-7, 10,000 lb. s.t. dry / 15,800 lb. s.t. with after burner


Performance

Maximum speed:
Dash – 1,550 mph (mach 2.35) @ 40,000'
915 mph (mach 1.2) @ sea-level
Climb to 30,000' – 1.5 minutes
Service ceiling: 50,000 ft (12,000 m)
Range: 1,630 mi (1,420 nm, 2,630 km)


Weights

Empty: 13,909 lbs.
Clean: 21,005 lbs.
Maximum take-off: 28,891 lbs


External stores

5 hard points – 1 X under the fuselage, 1 X under each wing, 1 X at each wing tip


Armament

External bombs and missiles such as: napalm bomb, cluster bomb, BL755 cluster bomb, a
19 rocket rocket-pod, Mk. 82 bomb, MN1A practice bomb dispenser, an M61A1 Vulcan
20mm cannon added to later versions.

---
THESE ARE PRE-PRODUCTION PICTURES
NOT THE FINISHED MODEL.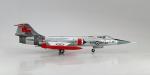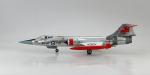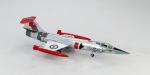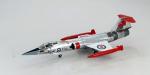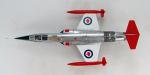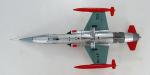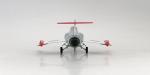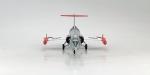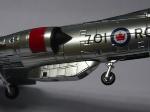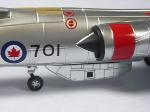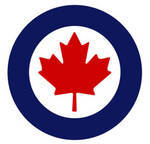 ---
This new site is being updated regularly and it will be much improved before too long. Please be patient, give it time, and check back regularly. Opportunities for community collaboration are in the works for a little further down the road.
---
This is not a retail site. You cannot buy models here.
Thanks to Dauntless Aviation for providing web hosting and other support for this site. Real or sim pilot? Check out their stuff!
This is not an official site of any manufacturer or retailer. Information provided here may be incomplete or in error. Use at your own risk.
This is not an "advice" site. Please do not contact us asking about these models. Please contact a manufacturer or retailer with your questions or comments.
Please update your links!

Update HomePage links from the HMC website to either www.MetalWings.com or, preferably, www.dauntless-soft.com/MetalWings.
Update your page links to this page from HMCwebsite/HA1011.html to http://www.dauntless-soft.com/MetalWings/HA1011.asp

This site will be modified over time. We are well aware of its many issues, including missing images and bad formatting.
© 2023 Dauntless Aviation • 4950C York Road 110, Buckingham, PA, 18912, USA • Contact Us • Privacy Policy