BODY {font-family:"Arial"; font-size:18;margin:0px;padding:0px;text-align:center;min-width:776px;} #centerwrapper {text-align:left;width:776px;margin-left:auto;margin-right:auto;}
Hobby Master 1/72 Air Power Series

HA1010
F-104N Starfighter
NASA, Dryden FRC, Edwards AFB, California, 1966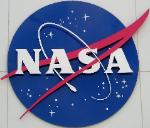 * Accurate 1/72 scale.
* Comes completely finished.
* Maximum die-cast metal with a minimum amount of plastic.
* Optional open or closed canopy.
* Display stand provided.
* Option to display with gear up or down, on or off the display stand.
* Professionally painted.
* High quality markings are pad applied.
* Highly collectible.

Beginning in 1956 the National Aeronautics and Space Administration (NASA) acquired
the first of 11 F-104 Starfighters. Over the years these aircraft proved to be the most
versatile of all the different planes used at the Dryden Flight Research Center. For the
next 38 years the F-104s conducted over 18,000 flights as chase planes and basic
research vehicles to airborne simulation and aerodynamic test-beds. The first F-104 was
retired in 1975 and is now on display at the National Air and Space Museum in
Washington DC.

In 1963 Lockheed delivered three single-seat F-104G Starfighters to NASA and were re-
designated F-10N with the N for NASA. The three were the only purpose built
Starfighters for NASA. Their main job was to be chase planes for other high speed
airborne test planes. The tail numbers were 011, 012 and 013 with 013 being involved in
a major mishap. On June 8, 1966 the second North American XB-70A Valkyrie was on a
public advertising photo shoot with F-104N 013 as chase plane. Speculation is 013 got
too close and was flipped over by the vortices of the massive XB-70A and sheered off
the Valkyrie's left tail. The F014N immediately burst into flames killing the test pilot
instantly. The XB-70A continued in straight and level flight for 16 seconds without the
crew being aware of the incident. Finally the XB-70A went into an uncontrollable flat spin
and the pilot ejected with just seconds left but the co-pilot was unable and was killed.


F-104G specifications


First Flight

(XF-104) February 7, 1954


CREW

1 pilot


DIMENSIONS

Length: 54.75 ft (16.69 m)
Wingspan: 21.92 ft (6.68 m)
Height: 13.50 ft (4.11 m)
Wing Area: 196.1 ft2 (18.22 m2)


WEIGHTS

These aircraft were stripped of any military equipment in an effort to reduce
weight

Empty: 14,082 lb (6,387 kg)
Max Takeoff: 28,779 lb (13,054 kg)
Fuel Capacity: Internal: 5,822 lb (2,641 kg) / External: 5,538 lb (2,512 kg)
Max Payload: 4,310 lb (1,995 kg)


PROPULSION

Powerplant: 1 X General Electric J79-19 turbojet
Thrust: 10,000 lb (44.5 kN) / 15,800 lb (70.28 kN) with afterburner


PERFORMANCE

Max Level Speed: at altitude - 1,450 mph (2,335 km/h) at 36,000 ft (10,975 m), Mach
2.2 / at sea level - Mach 1.2
Initial Climb Rate: 50,000 ft (15,239 m) / min
Service Ceiling: 58,000 ft (17,680 m) / 90,000 ft (27,430 m) zoom ceiling
Range: typical - 260 nm (480 km) with max payload / ferry - 1,576 nm (2,920 km)

---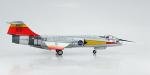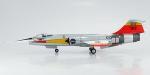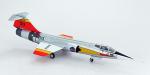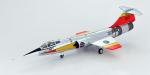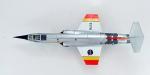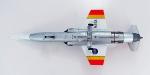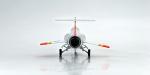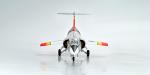 THESE ARE PRE-PRODUCTION PICTURES
NOT THE FINISHED PRODUCT


---
This new site is being updated regularly and it will be much improved before too long. Please be patient, give it time, and check back regularly. Opportunities for community collaboration are in the works for a little further down the road.
---
This is not a retail site. You cannot buy models here.
Thanks to Dauntless Aviation for providing web hosting and other support for this site. Real or sim pilot? Check out their stuff!
This is not an official site of any manufacturer or retailer. Information provided here may be incomplete or in error. Use at your own risk.
This is not an "advice" site. Please do not contact us asking about these models. Please contact a manufacturer or retailer with your questions or comments.
Please update your links!

Update HomePage links from the HMC website to either www.MetalWings.com or, preferably, www.dauntless-soft.com/MetalWings.
Update your page links to this page from HMCwebsite/HA1010.html to http://www.dauntless-soft.com/MetalWings/HA1010.asp

This site will be modified over time. We are well aware of its many issues, including missing images and bad formatting.
© 2023 Dauntless Aviation • 4950C York Road 110, Buckingham, PA, 18912, USA • Contact Us • Privacy Policy